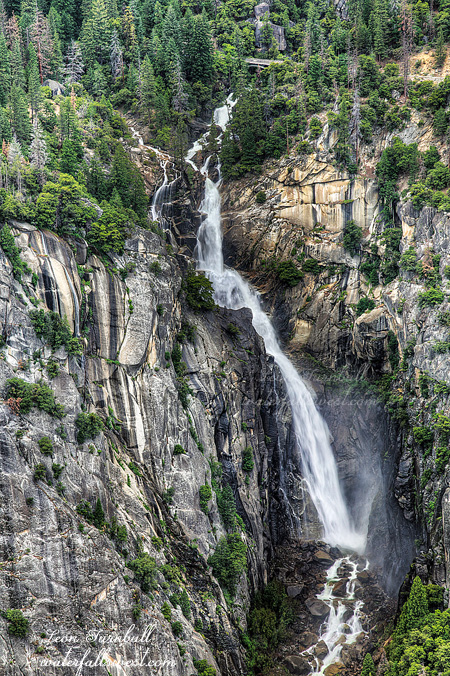 My latest 3 day backpacking trip would take me to Yosemite, just outside the park actually, but the first day it was supposed to rain all day so I just wanted to do one fairly easy hike in the morning before it all started. I went into the zoo, I mean the park. At the trailhead, I went to put my food in the bear lockers, but they were absolutely disgusting. Garbage totally reeking inside them. It seemed like they hadn't been cleaned out in years (I'm not exaggerating). Seriously, park officials? You want us to secure our food from bears, but you do not provide any decent clean place for us to do this. Well, I just left my food in the car in my cooler and hoped for the best. It was not going to be a long hike. My hike was a bust, I got to the top of a waterfall but could not get down for a view of it. No wonder I've never seen any good photos of this one before, I thought for sure I'd get something here. I was bummed.
I went over to The Cascades. Someone recently shared a good photo of this one from a view point I hadn't known about before and I wanted to check it out myself. You can actually get down right across from The Cascades, it is an amazing view of this waterfall, and you can see the entire section of the Falls below the bridge. It might be a bit tricky and slick if it's raining though (did I say it was raining?). Nonetheless, despite the wetness, I did get right down to it.
Interestingly, as I was photographing the waterfall I saw some kids coming back up. One of them was telling his friend to jump across this certain gap. He jumped and he missed and he fell into a hole. From my vantage I could not tell if it was a five foot hole or a fifty foot hole. I just saw him completely disappear and heard his friend shout an expletive. Was he dead? It turned out to be less than five feet and he was not hurt (too much anyway, I guess). Dang people. Be careful out there.
After this I went into the valley but it was a zoo and I could not find any place to park, and then it started pouring rain. I did not take any photos except one of Bridalveil Falls. I drove out of the valley and back to Groveland for lunch trying to get some carbs in me for tomorrow. Then the sun came out. It was supposed to be raining all day! I didn't know if this was a good or bad sign for my trip starting the next day.
We shall find out soon….
No Comments