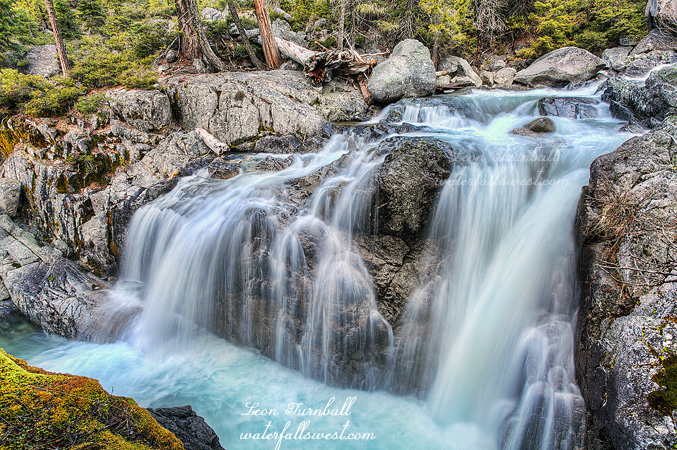 This is another one from Canyon Creek Falls in the Trinity Alps. This is Little Canyon Creek Falls. It is 20 feet high in two tiers, this is the upper tier. You cannot see both tiers in any single viewpoint.
Anyway, I did not get to any new waterfalls this weekend. But I did try. Boy did I try. It was an 11 mile hike round trip, with over 1500 feet elevation gain, at high elevation, and when all was said and done, I was turned back by heavy manzanita brush. Oh that stuff can be awful. And annoying. Mostly annoying. I got all the way up to the top of the mountain. I could hear the waterfall in the distance, but it was still quite a distance away, and there was a mound of the stuff in between. I tried to punch through it, but it just got too thick to continue. I had to turn back. Needless to say, I was disappointed.
The good news though, is that I found an alternate route to try and I think I will be able to make it to the waterfall this other way, with significantly less brush. It was too late in the morning to try it this weekend (and I was too tired as well). The bad news is that I do not know when I'll be able to try it again. It was a killer hike to get up there, and it is getting late in the season as well, and next weekend I was planning to go to Yosemite. In a way, I wouldn't mind skipping Yosemite and trying this again next weekend. I think it will be a great waterfall, and it seems to still be flowing quite well. But who can say NO to Yosemite?
Some of you may be wondering where I was hiking this weekend, but I want to keep it as a surprise. You are just going to have to wait. And maybe for a long time. Ha, sorry. But can you guess where I might have been from the clues I left in this blog? I was very surprised there was a lot of snow up there still. Above 8000 ft. there was a good consistent and solid pack of snow of at least a few feet thick. I was really only expecting to find patchy snow at this elevation. Even at lower elevations, above 7000 ft., there was still quite a few snow patches, and the creeks were flowing pretty good up there, and little streams were making the trail quite muddy and swampy in places. This all is a good thing, but I was surprised to see it. The bugs were starting to come out though. That is not a good thing.
I decided to bike the first four miles of the hike, thinking it would be faster, easier, and save me a lot of time. Actually, though, it probably took the same amount of time as it would have if I had hiked. It was supposed to be flat and easy going, but there was a lot of walking the bike up hills, over rocks and logs, streams, and through swamps. It was pretty slow going. But going back down afterwards, it was a lot easier and faster to bike the last 4 miles down to the car, so I *think* it was worth it in the end. Unfortunately, I did lose my bike pump somewhere up there. Good thing I did not get a flat and have to walk that 4 miles after all.
No Comments