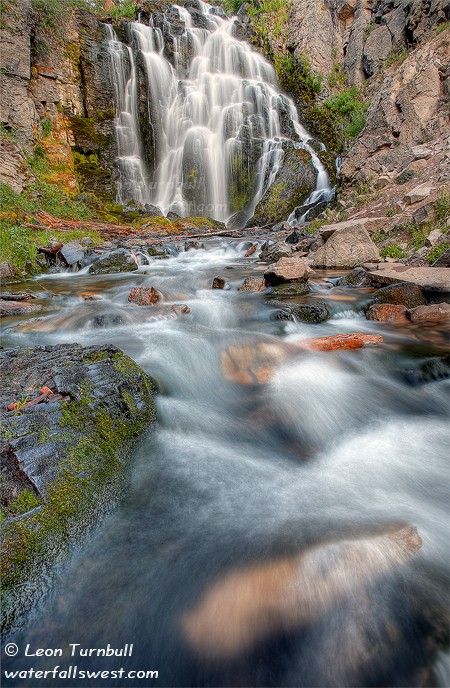 Here's a bigger waterfall for ya.
This past weekend I took a special trip up to Lassen Volcanic Natl. Park. The primary purpose was *not* to see Kings Creek Falls, believe it or not. More on this in my next post. But since I was here anyway, and since I really really wanted to get back to Kings Creek Falls, I decided to get up extra early and make the trip out to see it.
So I got up at the very lovely hour of 3:30AM and drove out to Lassen, arriving at the trailhead at 5:30AM. It was still dark. A friend told me the light hits these falls very early after sunrise. So I started hiking in the dark in order to get to the waterfall by sunrise. I was a bit early though, however, and it was still dark once I reached the falls. That was quite all right though. Better too early than too late. My friend also told me that this area of the park is a haven for bears. They like to wait in the meadows along this trail for unsuspecting early morning hikers passing by. Yum, juicy humans. Just kidding about the juicy part, but it is true that bears frequent this area. But alas, I saw none of the beasties on my hike this morning.
Kings Creek Falls is not the biggest, but certainly one of the prettiest waterfalls in northern California. I've been antsy to get back to it for a couple years now. Finally, I had a good opportunity to do so. In case you're wondering, I was right down in the creek to take this photo. And yes, it was darn cold.
Now I just had to toodle around the park until 5PM. And try to get a good nap in as well. Easier said than done. Stay tuned.
6 Comments