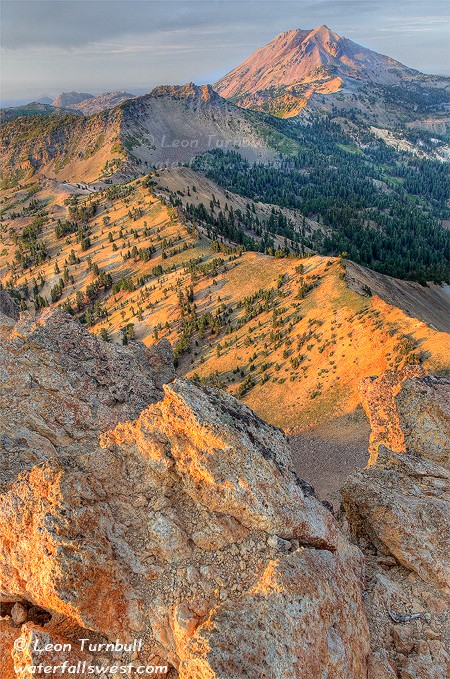 My friend Brian mentioned a week or so earlier that he was planning to hike up Mt. Brokeoff with some other friends in Lassen Natl. Park for sunset on the full moon. That sounded pretty darn cool to me, and maybe an almost once in a lifetime opportunity, so I invited myself along for the ride. Probably that was a big mistake.
I met Brian and his friends, Russell and Angel, at the Brokeoff trailhead at 5PM. Russell and Angel are both park rangers in Lassen, they are in their early 30′s, and they hike ALL the time. Angel didn't even drink any water on the hike up to the top. For her, it was just a stroll in the park. I, however, chugged back my entire camelbak and then some. The hike up to the top of Brokeoff is 3.5 miles up, 2600 ft. elevation gain, to an altitude of 9235 ft. at the peak. It is a rather strenuous hike. I was the real slow poke in our group. I just could not keep up to the other 3 young'ins. Even Brian was able to keep up to the 2 young speed rangers without too much difficulty it seemed (but at least he ended up sore and tired the next day – ha !). The first part of the hike was quite a struggle for me because I knew the most difficult part was still ahead (and a long way ahead). But as we got up nearer to the top, the last part of the hike didn't seem too bad and I gained a second wind (or a 49th wind), and made it up to the top without any vomiting. The other interesting factor was the weather. When we started out, it was stormy in the park, with lightning and thunder in some areas. We sure didn't want to be at the top of Brokeoff in a lightning storm (carrying metal tripods). But as we got up to the tree-line, the storm broke and it ended up being utterly fabulous on the peak.
I was rather proud of myself getting to the top of Brokeoff Peak. I know I need to get in better shape so I can do hikes like this more easily. But I made it, and I was very happy to be up there at sunset. The light was incredibly gorgeous, with clouds from the breaking storm around us, and beautiful light falling on nearby Lassen Peak (pictured here).
We stayed up for the moon rise, then hiked back down to our cars in the dark. It was about 10PM when we got back down. Brian and I were staying overnight to get up for another hike the next morning (more craziness). But before we hit the sack, we joined Russell at the local pub for a drink in nearby Mineral, where he lives. The joint was packed with other park employees (there's not much else to do in Mineral, I guess), and we watched women's weightlifting (Olympics) on the TV. Exciting stuff.
8 Comments