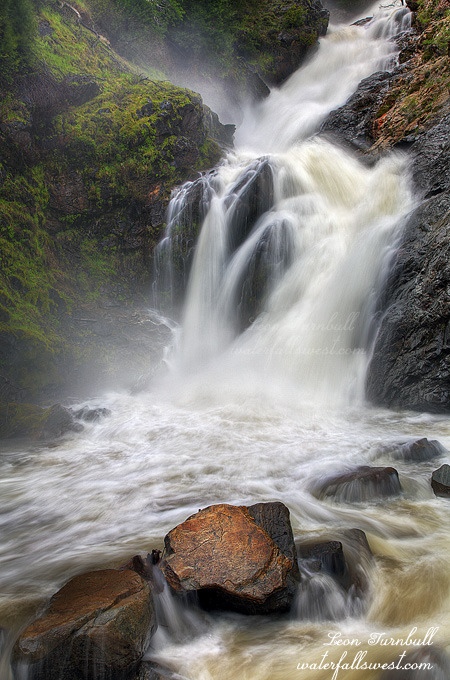 What do you think folks, does this place really exist? Three spectacular waterfalls, all within a couple hundred feet of each other? All unmarked and unnamed? (until now). Within a few miles of one of the most popular parks in the country? Very easy to get to, yet a virtually unknown location? Within minutes walking distance from an extremely popular picnic area and another (much smaller) but very well known waterfall? What do you think, not possible? Oh, and did I mention that one of the waterfalls was an incredible 182 ft. high?
Oh yes, it is possible. The location is Rainbow Pools, just outside of Yosemite National Park. Most people familiar with California waterfalls and with the Yosemite area have likely heard of Rainbow Pools, and many people have been there as it is very popular. But 99.99 percent of the people who go there do not know about these other three waterfalls, just a very short distance away. Indeed, I did not until recently when the kayaking community alerted me to this location. But even so, I had no idea what exactly I would find there.
There is a road leading from Rainbow Pools downriver, and I was thinking I would be able to drive down it. But the road was closed due to an apparent landslide. It was getting late in the day, but I still had plenty of time and it was only a half mile walk. The road follows the raging South Fork Tuolumne River downstream, alongst plenty of small rapids and cascades, and at least one other significant cascade (which could not easily be seen due to the steep cliffs). I saw no landslide as I made my way down the road, but I am glad the road was closed, because I would not have wanted to drive down it. It is very steep and very narrow. I hate steep, narrow roads.
In fairly short order, I came to the confluence of the South and Middle Forks of the Tuolumne River, and there I was treated to paradise. Two waterfalls coming together at the confluence, a 25 footer on the South Fork and a whopping 182 footer on the Middle Fork. A bridge crossed over the middle fork and the road continues downstream. There was so much mist from the falls it was very difficult to photograph this monster, but I found a semi dry spot in the middle of the bridge, and took a few shots; compositions were extremely limited because of the mist, but it sure was a beauty, and most definitely the best waterfall I saw on the weekend. How could no one know about this place or this waterfall? Just downstream, I could see a horizon line and I knew there was another waterfall there. I continued down the road, and as I turned the corner, I found the landslide, at the top of the third waterfall. Humungous rocks had fallen on the road, and it looked to be very dangerous to continue past them. I was only able to view this third waterfall (51 ft. high) from the side and top of it, but it was certainly another spectacular plunge, and if the landslide was not there you could get around right in front of it very easily. Wow, it was an amazing evening, and a remarkable location. It was getting dark as I reluctantly made my way back up the hill to my car. Very satisfied.
3 Comments