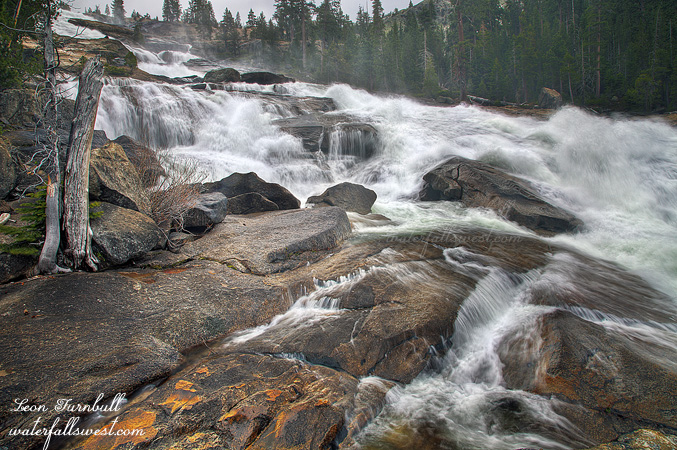 I made it! After years of trying I finally made it! I am talking about the Grand Canyon of the Tuolumne River in Yosemite National Park, which is probably THE major waterfall area of California and ONLY major area that I had not yet visited. Five major waterfalls (as well as many others) in a single 9 mile (1 way) hike. It has been on my list for years, though I have made prior attempts to go here. Two years ago, I had everything all planned and ready to go, but then I got a hernia just a couple weeks before the trip. Last year, I had a back injury and I was not be able to make such a long hike. This year I did not think I would be able to make it because of the very low snowpack, thus making the window of opportunity (when the falls would be flowing well) very short. The most important thing for me in going here was the weather. If the weather is sunny, it would be pointless because I also want good conditions for taking photographs, and that means overcast weather, which is extremely rare or non-existent in the spring in California. It is not worth the effort (for me) to hike all the way down here and only be able to take crappy photos in crappy (sunny) weather. So as May wound down, it did not look like I would be making it this year. But then Memorial Day weekend came around, and I see that a storm system has found its way into northern California, calling for cloudy conditions and snow. Friday looked to be the best day to go, and as it magically and mysteriously turned out, our company had given us all the day off on Friday. It was not really magical or mysterious, and neither was the perfect weather conditions which just happened to turn up on this one single day off that I had this spring. This was clearly all God's doing yet again.
So as soon as I learned about the non-magical and non-mysterious weather change, I also changed my plans and decided to make the trip over to Yosemite. I would be doing this all in one long day hike, not an overnight backpacking trip (which would have been the proper way of doing things). I totally underestimated this hike. It is in theory an 8 mile one way hike from Tuolumne Meadows to Waterwheel Falls, with a 1900 foot elevation loss. Not exactly. It is really 8.75 miles, and that is just to the top of Waterwheel Falls, but you need to go to the bottom of it for best viewing, and that adds another 300 ft. and another half mile, plus another half mile to Lower Waterwheel Falls. So my total hike was 9.6 miles one way with a 2200 ft. elevation loss along the way, not to mention that this hike is at high elevation, which makes it twice as difficult. I was dead tired before I even got to Waterwheel Falls, and I still had to go all the way back up in the same day. It took 6 hours to make it down to Waterwheel Falls (that includes the many stops I made along the way for photography), and it would take more than 7 hours to hike back up. It is a good thing I started out so early.
I left the house at about 2AM, and arrived at the trailhead at 5:30AM. The skies were completely clear, but I had faith that would change by the time I got down to Waterwheel Falls. The only wildlife I saw was a coyote as I drove through the park. I have seen a surprising amount of coyotes this year; I have seen one on almost every hike I have taken this spring, so I knew it was a good sign when I saw one again. Tara says the coyote must be my spirit animal this year. Maybe she is right. Despite the clear skies, it was an absolutely fabulous morning for a hike as I started through Tuolumne Meadows. Cold, crisp, and beautiful. The river was flowing with quite a bit of water, perhaps a bit more than I expected (though in actuality, it is better to see all these waterfalls with about twice as much flow). The first five miles or so of the hike is mostly flat, and believe me that is a good thing (when you are dead tired on the return trip). Once you get to the first of the five major waterfalls, however, things change, and you begin the big descent, losing 2000 ft. over the course of the next 4 miles. The clouds were already starting to roll in when I got to Tuolumne Falls but not quite. My plan was to photograph the major waterfalls on my way down as long as the light was good. Tuolumne was still in shade, so I stopped there, but White Cascade was in the sun so I left that for the climb back out; however, by the time I got down to California Falls, the clouds had rolled over completely.
When I got down to the bottom of Waterwheel Falls, it started to snow, lightly at first. I did not mind the snow at all, it is a lot better than rain. It was cold, but I had enough warm clothes for the hike. I did not, however, have any extra warm clothes back in the car. I would regret that later. Waterwheel Falls is the biggest of all the falls on the Tuolumne River, an incredibly fantastic cascade of 314 ft. in height. The namesake waterwheels of this cascade are much more prominent at higher flows, and this is why I mentioned above that it is best to see these waterfalls at higher flows, but you can still see them in my photo here. I was standing right at the edge of the roaring river, being very careful not to slip on the slick rocks and go tumbling into the swift river. There was a lot of mist from the falls, making it a challenge to photograph. Indeed I found it very challenging to photograph all of these waterfalls on this river. There was just a lot of water flow, they are very misty, and they are all very wide and big.
After making a quick visit to the Lower Waterwheel Falls, it was time to make the long trip back up to the top. I started at 11:45AM and eventually got back to the car at 7PM. As I said, I was already tired before I began the ascent, however I certainly had no other option but to continue on the hike back up. I just took it very slow, and began counting the waterfalls I had to climb back to the top of … one, two, three, four, five. I had many blisters on my feet, my legs were cramping, my body was screaming from the lack of water and food. I always have a hard time eating/drinking on long hikes. I had enough food and water with me, but my body would not consume it. I took long rests along the way, trying to regain some energy from food and rest. Finally, I made it up to the top of all the waterfalls, but I still had five miles to hike. As I mentioned, it was a very good thing these last miles were flat. It also started to snow more heavily, and it was sticking. There were two or three inches on the ground by the time I got back to the car. I did not think this was a big deal, but as it turned out it sure was.
I arrived back at my car. I was looking forward to stopping at Pizza Factory in Groveland before driving back home. However … I was about to be undone (AGAIN) by the Yosemite rangers. Yes folks, the Tioga Pass road was closed. The rangers stopped me as I began driving back. Yes, it was only two inches of snow that had fallen, and yes the Tioga Pass road was now closed. Are you kidding me?? Well, they told me that the snow plow was coming and the road would be re-open within the hour, and that I should go back to Tuolumne Lodge and wait there. Okay then, that is exactly what I did. I went to the lodge, had some dinner there, and figured the road would be open by the time I was done. By the time I was finished eating, however, the lady at the lodge gave me the bad news. The road was closed for the night (in both directions!). I was stuck there overnight, with no extra warm clothes, or camping gear for sleeping. I think she gave me some mis-information, however; after talking to another ranger the next day, I had the impression that they would have let me out that night. But I had no idea about that, and so I forked out the money for a room in the lodge (and fortunately they had some available on this long holiday weekend). It is really not much of a room, it is just more like a big tent with no electricity and no heat. They do have a wood burning fireplace, though, and I started a fire right away. It took awhile, but it eventually warmed up the tent, and I kept it going all night long. I slept awful. You would think that after such a long and tiring hike, I would sleep like a baby, but no sir, I did not sleep much at all.
It also snowed more during the night. When I got up in the morning, the conditions were worse. There was no way the road would be open yet. The lady at the lodge did not hear anything, so I decided to just start driving. There were no signs, no road blocks, no indications the road was closed, so I kept going. It seemed the road was open after all, even though the conditions were probably worse than the previous night. I stopped along the way at two roadside waterfalls. At first, I saw no one else driving along the road, but as I neared the end of it, there were a truckload of vehicles coming from the other direction. That was strange. Did they just open the road then at the other end? I got to the end of the road, and then I met the ranger there who was blocking the way from my continuance. He seemed as surprised to see me as I was to see him, but after talking with me, he let me through the gate. The road was actually still closed, and I do not know why they let all those cars through earlier (or why I was able to drive the whole way with no indication of any closure), but I did not care. I was through and on my way home. It was certainly a most epic hiking trip to Yosemite.
7 Comments