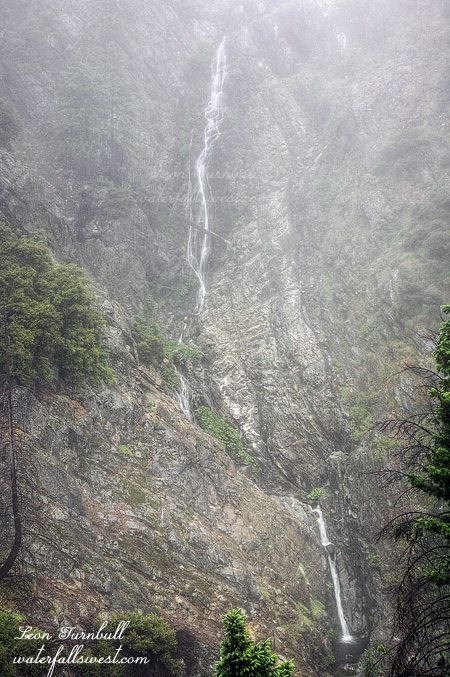 A rainy, foggy day in the summer. Now that is a rarity around these parts, and when it happens on a Saturday, you know I am going to be out enjoying it. No mosquitoes, no heat. A new 150 ft. high waterfall found, with a fantastic viewpoint, and a strenuous off-trail hike to reach it. For me, this is truly a perfect day.
As I drove up Foresthill Rd in the early morning hours, I was driving through a steady light rain, and a thick dense fog. I was driving very slowly due to the fog and not having very much visibility. As I got closer to the Beacroft trailhead, a truck was coming from the other direction and the driver stopped me. The old man was telling me how awful the fog was up on the road, and he couldn't see a thing, and that I should not go up there, and please drive extra careful. Ok, thanks Grandpa. Seriously, he was a nice old man, but I could not figure out why he was coming down the hill at this crazy hour, and even more strangely, why he said he had just driven up there earlier in the night. Now that makes no sense, but I figured it out later. This was the day of the Western States 100 mile endurance run, the single busiest day of the year on Foresthill Rd. The old man was a race volunteer probably. As I drove home later that morning, the traffic coming up the road was crazy (relatively speaking of course – it certainly was nothing like rush hour in Sacramento).
Anyway, I arrived at the Beacroft trailhead at first light, and began my hike in the light rain. The rain was pretty much steady for the entire hike, though there were a few breaks now and then. I was soaking wet by the end of the hike. My waterproof boots were squishing out water as I walked, my waterproof gloves were soaking wet on the inside, I was a drenched dog. It wasn't so much the rain falling though that was the issue, it was the off trail hiking I was doing, plowing through wet brush for much of the hike. That is what really got me soaked.
The trail starts off nicely as it cuts over on the old Iowa Hill ditch. Construction on this old canal dates from around the year 1882 and was stopped in 1884, never finished thankfully. If it was in operation today, it would be sucking water horribly from several waterfalls, included among them Tadpole Canyon Falls. Today (in theory) you can follow this old ditch from Beacroft to Tadpole and beyond. But after about a mile of hiking, I came to a washed out section due to a slide, with a massive deadly dropoff on one side. I knew this was here because I had come down this route last year, and I had to bypass it by climbing above this section, and I did the same this year as well. This makes the hike much more difficult as you have to climb up steep terrain, but it is also much safer, and I like safer. The forest fire which raged through this area in 2008 makes the going easier in this section, as there is no brush on the forest floor to whack through. Indeed, it may have been impossible to hike this way before the fire. When I got over to Tadpole Creek, I began to have doubts. The creek was easily rock hopped across, but then what? The terrain on the other side looked just too steep to climb. From last year, I remembered seeing the canal on the other side had more washed out sections with steep dropoffs, and I did not think that looked like a good route. I could not see it on this day because it was so foggy. I made my way down to the creek, and further downstream. I came to a nice little 15 ft. waterfall, climbed down it, then found a place that looked easy to cross. A "trail" continued up the ridge on the other side. Maybe this would be do-able after all, but then I came to the brush. The late Russell Towle talked about a Big Brush on the other side of Tadpole that was completely impassable, even after the forest fire. This was not the Big Brush, but I think it was the beginnings of it. Again, I thought of turning back, but I was close now, so I pushed through it. Then all of a sudden, the going got a lot easier, and the brush was not as thick. I came to the ridge where I figured on my map that I should cut down to the waterfall. In short order, I made my way down to the end of the ridge, where I found a stunning waterfall and a fantastic viewpoint. This is why I love waterfallin! Wow, I was in awe. The only problem was that it was so foggy I could barely see the waterfall, but really that is what made this so awesome for me. It was the eeriness of this scene that really got me.  It was magical, peering though the fog into nothing, then seeing a white line of falling water appear out of that nothing.
It is a remarkable feeling standing in a spectacular place where so few people have been before. I know Russell Towle had been here, though his description did not mention a stunning waterfall or spectacular viewpoint. Nonetheless, I am pretty sure he had been to this very spot. But who else has been here before? Who else would even know there was a waterfall down here? It is a remote location and access is difficult. Perhaps now it may get more traffic that it is up on my website? But only for the real die-hards out there.
I set up my camera and began taking some photos. I had to use my old 5D camera, because the 5D MK II is not back from repairs yet. Surprisingly, the old 5D still works. I say that is surprising because it was not working before. I had sent it in to Canon for repairs, but it turned out to be too costly to repair it, so they sent it back to me un-repaired, but I think they actually did fix it for me anyway, at no cost. Speaking of no cost, Canon is not charging me to fix my 5D MK II either! I am not sure why, but I am not complaining. Thanks Canon, I will not be switching over to the dark side yet!
As I stood there taking photos, amazingly the fog lifted slightly for about 10 seconds. I took this photo. Then the fog rolled back in over the waterfall, and it did not lift again, though I waited for quite a while. Thank you God. Finally, it was time to start the wet climb back up to the car. I stopped off at the small upper falls to take some photos of that one, then continued across the creek and back to the car in quick time. It was a perfect day.
2 Comments