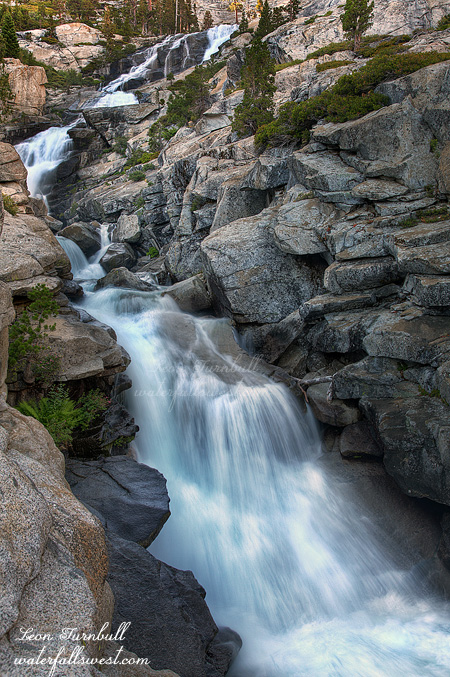 This weekend I did not feel much like going out in the heat for a long difficult hike, or getting up super early. Heck, I did not even feel like going out at all, but I forced myself to go out Saturday afternoon for at least an easy hike. Horsetail Falls was a good ticket. I have been here many times before of course, and have some good photos of it already, so I told myself I would look for a different shot of this falls this time.
The trail was very busy as per usual as I hiked up to the falls on Saturday evening, with lots of people coming back down. It was hot, very hot. There were no mosquitoes, well not too many. I did have to don bug juice for the hike back down later that evening. The waterfall was flowing pretty good, as I expected. Horsetail Falls has great flow for most of the summer, even in a bad snow year.
I arrived at the waterfall probably a bit later than I should have. The falls was already in shade at 5:30PM, and the best light is really immediately after it first goes into shade, so I should have been there a bit earlier, but I think I got a few good photos while it was still in some good warm light.
The trouble with finding a different composition of Horsetail Falls is that there is none. The comps I was examining that I liked were just far too dangerous to try to get to. The rocks are slick around this waterfall, and this is not a waterfall where you want to go swimming.  I tried this composition a bit further back. I think I have photographed from here before, but did not get anything I liked, so I tried again, and I do like this shot this time around.
I was the last one off the mountain at the end of the day, though I did encounter a few latecomers on the way back down. I took my time on the way down, went to Lower Horsetail Falls as well. It was a lovely day, and I was glad to get out and enjoy it.
2 Comments