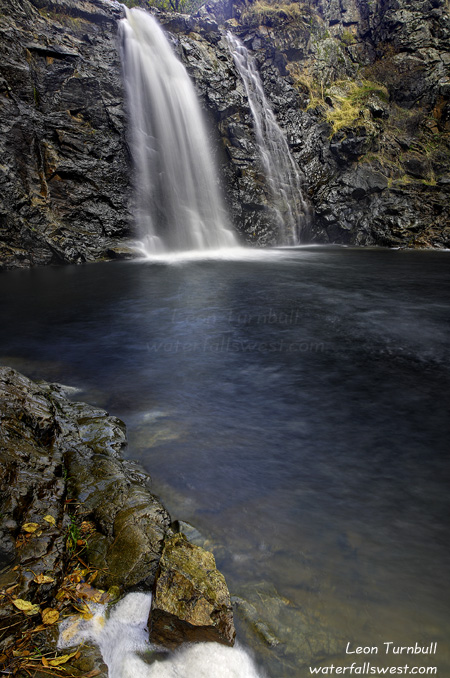 I struck out again. I have been trying to get to the lower falls on Traverse Creek recently. I have been looking for an "easy" route down to that waterfall. I know it is there, and I know where it is, but the only possible route is a difficult scramble downstream from the upper Traverse Creek Falls. I was hoping to find an alternate, and easier route. But on both times I have tried, I ran into various dead-ends, which usually means thick impassable brush. So I guess I will just have to suck it up and just go the hard way next time, which I think will be very soon. I am determined to make it to that one this year. I just need a good overcast day because I don't want to go down there if it is sunny, and thus I wouldn't be able to get a good photo of it.
In the meantime, after failing for the lower falls, I went back to the upper falls yet again. It is in beautiful double form mode right now. A couple more rains and it will be in full torrent mode.
The rocks and cliffs are very slick, and it is a bit dangerous to get down to the falls right now. The last part is very steep, and you must hold onto ropes to get down to it. You do not want to slip and fall. Well, I didn't. Not even one tiny slip this time. (knock on wood for next time).
At Traverse Creek Falls, I always try to remember to bring a garbage bag there. In the past, it has been a trash heap. Don't get me started on a rant about stupid idiots who litter out in the wilderness.  Anyway, thanks to quite a few various people, it has really been cleaned up in the past few years. There was, however, still a bit of trash at the bottom of the falls. I forgot a garbage bag, but I managed to pick up all the trash that I saw. So hopefully it should now be clean for another year.
2 Comments