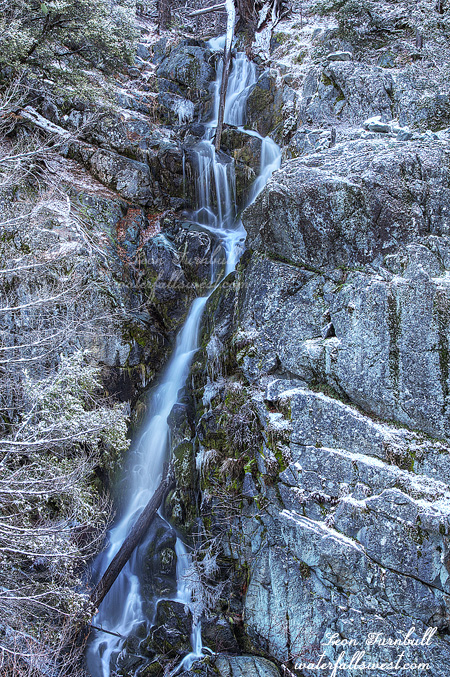 We had a large Pineapple Express roll through last week. This storm was very warm – practically hot, so hot it was on fire. Ha ha. It brought up the river levels high, but it was all rain on the mountains and no snow. We do need that snow pack. The waterfalls at least would be fabulous. I wish I could have gone out hiking on Friday, though. The NFAR was up to 20,000 cfs for the second time in less than a week. By the time Saturday came along, the river levels were much reduced, but the creeks still should have been flowing great. You would think so, anyway.
It was very cold on Saturday. It was around 25 degrees. Freezing. Brr. It was all ice. Amazing how the weather can change so much in a day or two. The storm was all gone.
I drove up to Downieville and Sierra City in the morning, not as early as I had wanted to, but I had trouble sleeping the prior night, so I decided to sleep in a bit later than I should have. Here is what I found: The rivers (Yuba) were certainly still very high as you would think. The major creeks (Pauley) were certainly still very high as you would think. But the smaller creeks were not so high, and I was disappointed because I was hoping to see some of the waterfalls on these smaller creeks and flowing strong. Not so much. The first of these was 79 ft. high 1001 Ridge Falls.
There was a dusting of snow in Sierra City, I thought it might be treacherous getting down to this waterfall, but it was quite easy. It was a lovely scene with the dusting of snow, a winter wonderland, icy and fresh. I just wish the falls was flowing stronger. It would have been fabulous a day earlier, I am sure. This was the only "new" waterfall I saw this day. I wanted to see more new ones, and could have if I had gotten up earlier. Nontheless, I did see three other waterfalls. Coming up.
No Comments