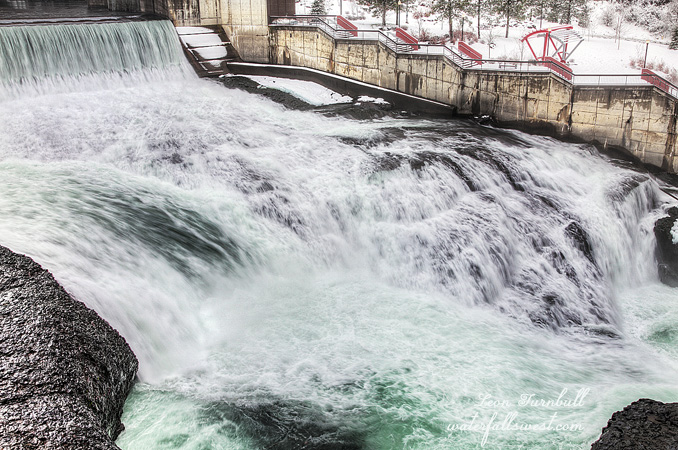 On the day of our planned trip to Canada for Christmas, there was a big winter storm coming in the forecast. There was supposed to be a foot of snow at Shasta and I was concerned about the road conditions by the time we would have gotten there, it really could've been quite bad. So I decided to go on I-80 through Reno instead. This worked very well for us a couple years ago in a similar situation.  It is a bit longer but if we get over the Donner Summit before the storm starts, it is smooth sailing from there. Or so I thought.
Since the storm was to hit Donner Summit later in the morning, we easily made it over the pass. All right I thought, smooth sailing. But when we hit Oregon, there was snow on the road and it was icy. This did not happen to us the last time we did this route. Apparently the storm caught up to us, the going from here was much slower. However, I still thought that once I hit I-84, it would be much easier from there the rest of the way. Again, not so much.
When we got to I-84 things got far worse. The freeway was closed due to the storm! I already had a very long drive and without my wife coming with us this time, I was the only driver. Now I had an even longer drive to get around this mess in Oregon. We had to go back through Idaho up towards Spokane. This section of the road was the worst yet. It was 250 miles and pretty much averaging 45 mph or less the whole way. People were driving far too slow due to the snowy conditions and it was pretty much impossible to pass anyone. After about an hour of driving and only having gone 40 miles, I figured it would have been much better to have just stayed back and hoped the freeway would open before too long. Too late now. Well it was a long drive but we finally made it to Lewiston/Clarkston where we would stay for the night.
Ew the smell! I could not believe it. It was unbearable. I honestly do not know how the people of this town can stand it to live here. The paper mill in Lewiston is a monstrosity as you drive into town. Ugly, dominating the entire river, and spewing out pollution into the air. Of course they tell you that it is not hazardous or dangerous, and I suppose it is not, but it is still pollution. I read on-line that it is only bad when the mill is going, and the people here are used to it. I seriously don't think I would ever get used to this smell. We thought about walking from our motel one block to the restaurant we were going to, but we decided to drive instead for fear that we would drop dead before we got to the restaurant. No joke.
I grew up in a town in which just down the hill was a lead zinc smelter. Back in the 1960s before I was born, the pollution from the smelter was so great that absolutely nothing could grow in the town or in the surrounding area. They have since cleaned it up now, and the town is very nice, no more pollution. You do not even smell anything from the smelter. That is certainly not the case in Lewiston.
Well what does this have to do with waterfalls? Certainly there are no waterfalls that can grow in Lewiston. That is actually not a lie. No waterfalls do grow in Lewiston.
Spokane does have waterfalls that grow, however.  Or are made. The next day it was another long slow drive from Lewiston on snowy, foggy roads. It was so foggy I could not see more than 50 feet in front of me. By the time we got to Spokane, I desperately needed a break, so even though I have been to these waterfalls before, we decided to stop for an hour and go down and see them again. It was fun walking around the park in the cold and snow, and a good break before the final slog up to Canada. And it didn't smell.
No Comments