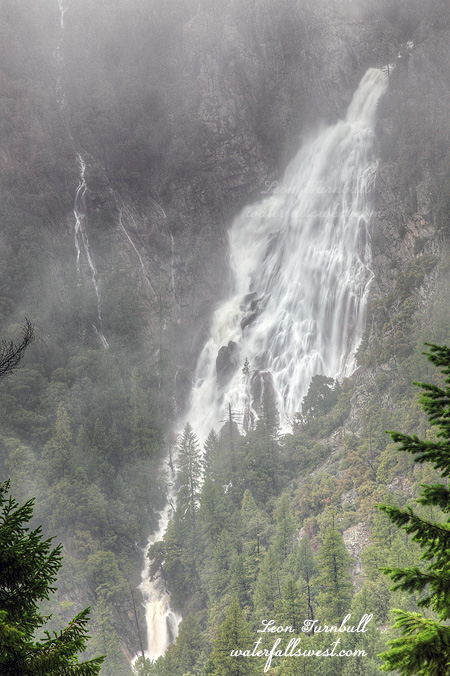 The Pineapple Express came to town and left destruction in its wake. About 15 inches of rain fell in the Northern Sierra foothills. Many rivers and creeks were flooded. Roads and highways closed. Power lines came down. Mud and rock crashed down mountain sides. Famous trees fell (one famous tree, anyway).
P.S. Northern CA is now at 218% of average rainfall for the year so far and the snow pack is now above 131% of average. We still have two and a half months of winter left. Keep it coming!
Of course you know that I would want to get out and see some waterfalls at extremely high flow. The North Fork American River reached 43,000 cubic feet per second, quite a bit higher than the high from last month's storms, but lower than I was expecting. We received less rain than initially forecast. I blame my wife for jinxing the forecast. She said beforehand that we would not get so much and that the forecasters are always wrong. Argh, thanks so much, my love.
Anyhow, the rivers were extremely high. Normally at this time I head up to my go-to waterfall, Canyon Creek Falls, and actually this was my plan when I woke up. One problem. The freeway was closed. I could not get to Canyon Creek.
Time for Plan B, which was suggested to me by a friend: Grouse Falls. I would not have even thought of this waterfall in the winter. Surely it would be inaccessible this time of year, but the idea had much merit. If you are going to see a raging waterfall, go huge. At 504 ft. high, Grouse Falls is huge. It would be spectacular. Could I get to it?
The road from Auburn to Foresthill was extremely busy. In both directions. What the heck is going on? I always see cars coming from Foresthill (to go to work in Auburn, I assume), but not the other way. And everyone was driving much too fast. It was still dark, the roads were wet and potentially slick going around the corners. There easily could be deer along the road. Or bears. Awhile ago, I did see a dead bear along this road. Hit by an idiot, who was driving too fast, I am certain. It ruined my entire day. Indeed, this morning I saw many more deer than I usually see, a surprisingly large amount actually. They were all out and about, no doubt, because the big storm was over, and now they were looking to stretch their legs in the morning, and get their breakfast and coffee. Don't drive so bloody fast in the early morning hours, people.
Getting back to the hike, my big concern with all the flooding and such happening, is that wherever I went, I had to be safe. This was a big concern, and why my Plan A was for Canyon Creek. The road up to Grouse Falls is not exactly safe. The North Fork of the Middle Fork American River canyon is terrifyingly steep. The road down from Foresthill to the river and up the other side is an amazing feat of engineering, built into the sheer vertical cliffs. Rock and mud slides are not uncommon, and after a huge rain event, I suspected there could easily be blockage. They have to keep the road open because of the powerhouses, but nonetheless I was concerned I might get trapped for quite a long time on the wrong side of a slide after my hike was all done. There is no other way out in the winter. But the storm was done, surely if anything came down it would have happened the previous day. Right?
Well as I drove down the road, I did see many rocks that had fallen onto the road, one big one that was blocking half the road, a couple fallen trees that were blocking half the road. Once I had to get out and move a big rock out of the middle of the road, but mostly it was easy to drive past all these small obstacles. So far so good. There was rain coming, but not until the afternoon (supposedly), so hopefully nothing else would come down as I hiked.
I came to the Grouse Falls turnoff. I had no idea what to expect. I was prepared, and thinking it quite likely, that I would have to walk from here. 12 miles round trip. I thought there would be too much snow in the road, or if it had all melted, then the road would be far too muddy to drive. I was prepared to make that hike. There was no snow. I kept on driving. It was surprisingly not muddy, and in fact was in very good condition overall for driving. I drove one mile. There were some icy patches on the road. I had to drive by them very carefully, but no big deal. I drove two miles. A small tree blocked the road. I was able to pull it out of the way. I drove two and a half miles. A small flooded creek going across the road, but nothing I could not drive through. I drove three miles. Snow on the road, but it was a short section, and I was able to plow through it. I drove three and a half miles. A much larger tree had fallen and blocked the road. I thought I was done for with this one, but I used my muscles and was able to pull the monster over enough to pass by. I am Superman. I drove four miles. A big, long, and deep snow section on the road. This time I really was done for. If only I had a jeep. I do not. But I had driven four miles! It was only 1.5 miles from here to the waterfall overlook. No problem. It was a very easy hike from here. However, as I approached the overlook, I began to realize there was going to be a different problem which I had not yet even considered: FOG!
The canyon was completely socked in. I could hear the waterfall, and it sounded impressive indeed, but I could not see it from the overlook. Then it started to hail. Hard. Then it started to rain. Hard. Then it started to snow. Hard. I waited for the fog to lift. I probably stayed at the overlook for an hour or so, through all that weather. Before too long, the fog did lift and I could see Grouse Falls. It was astounding! You have never seen Grouse Falls ever look so fine and magnificent. I clicked madly away at my camera because I only had about a minute, then the fog rolled back in, covering up all that magnificent-ness again. This scenario repeated itself quite a few times over the course of the hour. The fog would lift. Click the shutter button like a madman. The fog rolls back in. I took many photos. Hopefully, I got a decent one. It was impossible to tell because much of the time it was raining or hailing. It is very hard to photograph in the rain, and like an idiot, I forgot my umbrella so I did not have anything to help keep the rain off the lens. Finally, the fog came back for one last time, and I said enough. So long Grouse Falls, and thanks for all the pics.
It was snowing extreme on the hike back out, and raining no doubt at the lower elevations. I had hoped to do another hike, but not in this weather. I wanted to get down the mountain before half of it came down, wiping out the road. I did not feel like doing another hike in rainy weather, and I kinda felt that I did not see enough from this big rain event. Though, I should mention that I did go to Bassi Falls as well. It was a good snowshoe hike, but it was pouring rain and windy and very cold at Bassi Falls, and I only took two quick shots. Neither of them turned out at all. Crap. At least one of my myriad of Grouse Falls shots turned out well.
2 Comments