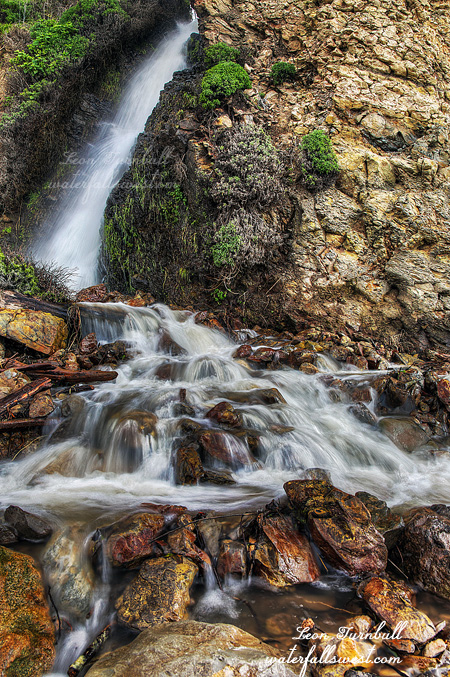 Just a couple days ago, it was looking like the dreaded Ridge would make its first significant appearance in California, resulting in our first extended dry period of this season. After 3+ months of continuous rain with very little break in between storms, now the rain would be over. Done and done. I am sure there was much rejoicing among flood weary Californians. I was bummed. We still have one more month of winter left and I would like to still see a decent amount of rain this month. Yes, I am out of my mind. I suppose I am being selfish, especially since the main reason I want this is because I have a plan to go to a certain waterfall at the end of March and it is the only time I can go see the waterfall, and it will be dry by then if we do not get any rain in March. Well, after just a short break this week, it now looks like the storms will be returning this weekend, and maybe some bigger ones by mid month. I might get to see that waterfall after all. The fat lady has not sung yet for this winter.
Here is a good case in point. This waterfall was not flowing as great as I hoped it would be. I was a bit disappointed. Even though it was only one week since the last big storm, the flow was already down substantially this week.
It is a long and boring hike out to this waterfall. It is pretty much at the end of the world. Well, Point Reyes is at the end of California's world, anyway. It is about 5 1/2 miles one way, mostly flat and very easy. Although you are hiking through a pretty forest, and alongside a very  lovely stream, I still find hikes like this rather boring if they are flat. It is more interesting and challenging if there is elevation to hike up and down.
It is also an extremely popular hike. I did not see too many people on the way into the waterfall, and I saw no one down at the beach, but on the hike back I think I saw 1 million people. Every type of people you can possibly think of: hikers, runners, backpackers, bikers, dogs (though they are not allowed), old people, teenagers, little kids, foreign people, wimpy people, weird people, you name it, I saw them.
I really messed up on this hike, though, in a couple different ways. The first is that I should have brought my big lens. My back would not have been thanking me if I had brought it along on a 12 mile long hike. However, I needed it. I did not think I would because the park's website indicated that this particular section of trail (Arch Rock) was closed due to a slide that happened last year, thus I figured I would not be able to get to this particular spot where I would need the big lens, and so did not bother to pack it along. However, it was not closed. I went out to Arch Rock, and that is where I wish I had the big lens. Aargh. I could see three waterfalls from this spot, including Alamere Falls three miles off in the distance. I also saw sea lions on the beach below me. It was an amazing viewpoint.
The second thing is that I should've done this hike first thing in the morning when the tide was low. I did not think I would need a low tide. Also, it was supposed to be a cloudy day. All my weather apps said it would be cloudy and showery all day long. Guess what? It was sunny. This would be disastrous for photography. As I hiked that long boring 5.5 miles, I prayed often: please bring those clouds in.
Well when I got down to the beach, guess what? There were some clouds. It was not what the weather people said it would be, just a few clouds covering the sun for a short period of time, but it was enough to take photos of this waterfall. Thank you, Lord. But where was that rain, anyway?
The second waterfall on this beach is the one I needed a low tide for, and it was actually a nicer waterfall than this one, but when I got down to it, the waves were crashing up against the cliff. I could only take a handheld shot in between the waves crashing every 30 seconds, I had no time to set up my tripod for a proper photograph. The scenario: Wait for the wave to end. Run up around the corner. Take a photo of the waterfall. Run back before the next wave got me. Rinse and repeat. Oh well, what can you do?
I went back to this first waterfall, took my photos standing in the middle of the stream, then had my lunch beside it. It was certainly a beautiful day. I saw no one else on the beach, except for two joggers that came down to the beach, took a selfie of themselves with the ocean in the background, then left. They did not even look at the waterfall, let alone go up to see yet, even though it was right there beside them.  Really? What is wrong with people! Who would rather look at the ocean than a waterfall? Sacrilege, I say. LOL.
After eating, it was time to hike back. It was a very long 5 1/2 miles. Every few minutes, I had to put on my happy face (though I was tired and my back was hurting), and say hello to the next group of hikers that came by. That gets tiring after awhile. Anyway, it was a beautiful day at the ocean.
No Comments