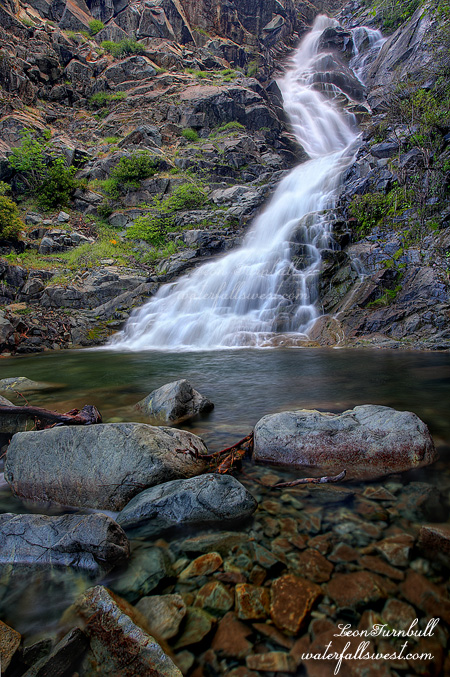 This photo is Wabena Creek Falls from Jun 2009.
I do not have many good photos of the waterfalls in the North Fork American Canyon, and I was attempting to rectify that situation this weekend with a  solo backpacking trip down there. It was going to be epic.
The idea was to hike the Mumford Bar trail down to the river and follow the American River trail up to New York Creek. I did this trip with my brother-in-law 11 years ago. It was fantastic. We had no problems with the trail whatsoever. It was in excellent shape. Now? Not so much. It was epic, all right. It was an epic fail.
I could not drive all the way to Mumford Bar. The road was plowed to about 1 mile from the trailhead. Why did they not continue just a bit further? Ugh. Since there is no place to park along the road, I actually had to drive back almost a full mile before I could find a spot to park for the weekend. That means I had to hike 2 miles to Mumford, then 10 miles to New York from there. No problem. I was all ready for this.
From my previous backpacking trip last Fall, I learned a couple important things: Number one, I was too fat. At that time, I was a bit overweight, and that makes hiking with a full pack very difficult. I determined that I needed to lose at least 10 pounds before my next trip. I lost 12 pounds (to 183). I worked extremely hard over the winter to lose this weight, and I felt I was in great shape. For you young people, you might think losing 12 pounds is no big deal. Easy smeasy. Well, sorry to say you have a lot to learn. I was like that when I was younger. I could eat like a horse (or two) and never gain a pound. Now, I can easily gain 10 pounds in less than 2 weeks if I lose focus and go on any sort of binge (such as going to my mom's house at Christmas break). Then it takes six months to lose that 10 pounds again. So anyway, I am extremely pleased I was able to lose 12 pounds over the winter. I am determined not to gain it back this summer. The second thing is this: I needed to lose at least 10 pounds of pack weight. I cut my pack weight by 14 pounds. (to 31 – I'm not sure exactly, but it was around this amount). The major thing was that my camera and tripod were far too heavy. That was 7 pounds right there. I bought a new lighter camera and tripod (but still both good quality – I want to be able to take good photos). I cut down on weight on some other things as well. I was surprised how light my pack was. This was going to be an awesome trip.
There was snow on the road, and it was very hard packed. I can see why it takes them so long to plow roads in the spring. It is tough sledding! I guarantee it will be more than a month until the snow is melted on this road to Mumford and Beacroft (and Sailor will be later than that). Why don't they just plow the roads all throughout the winter? This is how normal northern states (and countries – such as Canada) do it. It would be so much easier to keep roads plowed throughout the winter, then they would only be closed for a day or two after storms. I'm thinking Tioga Pass, Glacier Point, and the major highways that are closed in the winter, but also Foresthill Rd. It would be so much better and awesome, but I suppose it is a money issue more than anything else.
Anyhow, I got to Mumford Bar trailhead and headed down the trail. The snow now was much softer. I was afraid I'd be sinking right through on my return trip back in a couple days. That was the least of my worries, however. There were downed trees and branches everywhere on the trail. I assumed this was from the fire three years ago, the American Fire. Absolutely nothing had been cleared. This is a major trail. It was awful. As I got further down, I lost the snow, and the trail got a bit better except for the occasional obstacle I had to negotiate. Until the bottom.
The fire did not reach the bottom at the river, but the trail was absolutely horrendous. Over growth of prickly brush dominated the entire trail, with a stream running down the middle of it. There was no trail, in actuality. I had to go straight through this brush? This seemed impossible, but I gave it a go. My pants got all torn up. My legs got all torn up. I somehow got through this mess and to Mumford Bar. Breathe, Madman, breathe.
So now what would the rest of the trail be like? I imagined it would be somewhat overgrown, but not nearly to the extent it was. It started out all right. An unnamed stream flowed down beside Mumford Bar at torrent pace. I had to wade across it. If this small unnamed stream had such tremendous flow, how would I cross Tadpole Creek ahead? Again, I did not need to worry about such things. The trail started off all right. There was some overgrowth, a lot of poison oak, but I had a good feeling. Really, I just wanted to make it to Beacroft. Then I could go back up the Beacroft Trail. I  had no desire whatsoever to return up the Mumford Bar trail, which was so awful. The trail disappeared from time to time with overgrowth, and I had my doubts, then I found it again. But before I got to within 1.5 miles of Beacroft, it was gone forever. No trail. Incredible brush. Incredible poison oak. Completely impassable. There was no going on from here. I could not even get to Beacroft. I had to go back to Mumford Bar. Epic fail.
From what I learned later, the Beacroft Trail is even worse. If I had tried going up that trail, I would have been in even more dire straits. Shame shame shame on the Forest Service for letting these major and awesome trails go to pot. In only 10 years they have gone from excellent to impassable. This is unforgivable in my opinion.
I got back to Mumford Bar and rested and ate my lunch. It was incredibly difficult and tiring thus far. I was certain I touched the poison oak quite a bit and was in for a horrible rash in the near future (thankfully, it was just a small rash). I still had a very difficult climb (2700 ft.) and six miles back to the car. Not to mention the awful brushiness and fallen trees to get through. I could have camped at Mumford Bar, but I did not feel like it. It is not really a very interesting spot, you cannot even get down to the river here. So I rested, then climbed out of the canyon without taking a single photo. It was a long and tough climb. It took me four hours to hike that six miles. On the drive home, I called my wife and asked her to order some pizza for me, so it was waiting for me when I got home. I have a great wife.
2 Comments