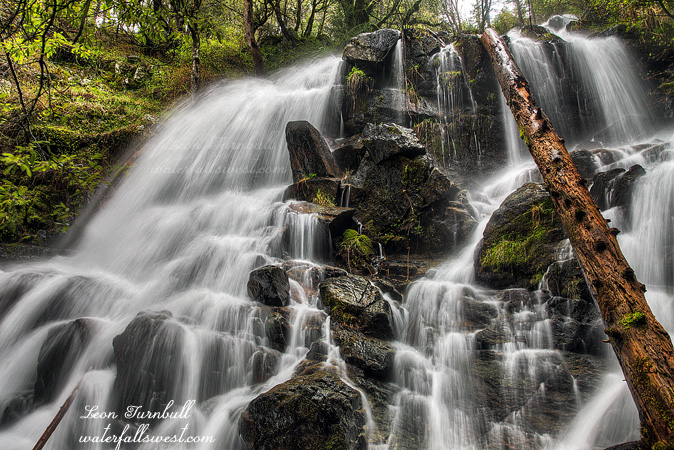 I woke up thinking I would go hiking up in the Downieville area, but one look at the weather and I changed my mind. Raining all day there. What about Oroville? The prospects there for weather looked much better. I re-loaded my Oroville maps onto my GPS and headed out.
As I drove up to where I would be hiking, I saw an interesting creature on the side of the road. Whoa, what the heck is that? I believe it was a marten. I have never seen one of those before. It is always fascinating to experience new wildlife sightings.
The dirt road was far too muddy to drive. I decided to walk rather than risk getting my SUV stuck big time, but not before I got the vehicle very dirty. Ugh. I should not have even tried driving up that road to begin with. Dumbo. Now I will have to wash it.
As for the hike, I would now be hiking 12 miles, but it was a perfect day for a hike. Cloudy, cool, not raining (yet).
The dirt logging road soon became very overgrown. I have to say I was up to my eyeballs with overgrown trails from my last hike, and I had no desire to continue with more of that crap today. I came close to turning back, and trying another (longer) route, but I decided to continue on for a bit more. I put on my rain gear so I would not get soaking wet going through the brush, and voila. Before very long, the road opened up again into a nice wide logging road, and stayed that way for the rest of the hike. Until the end, that is.
The last section was off trail, with a big steep descent down to the waterfall. No trail. Brushy. Prickly brush. But no poison oak! In fact, I did not see any oak at all on this hike all the way down to the falls. I was a bit shocked because I expected it big time. I was not at a high elevation, and usually poison oak is the order of the day in low lying areas such as this, but not here. Sweet.
It was not steep until the very end. I could see the waterfall and it was a beauty, probably about 80 ft. high, but not very easy to see. In fact, it seemed this was going to be another one of those obscured waterfalls with no clear view. I had to get right down to the bottom of it to see anything at all, which meant I had to use my rope. The ground was very slick and unstable with loose rock and shifting soil, and I had to be extremely careful, but I made it right down to the creek. I got a nice closeup view of the lower section of the falls, but the upper section was out of sight. Ah well, I got it half right. Not bad. Even though this is very close to popular Feather Falls, and the creek is the same one as you will see along that popular trail (Frey Creek), yet no one has seen or ever heard of this falls before although it's a real beauty. Another new find from yours truly. See my website for more information.
It started raining on the hike back to the car, but I did not mind. It was a good day at Oroville.
No Comments