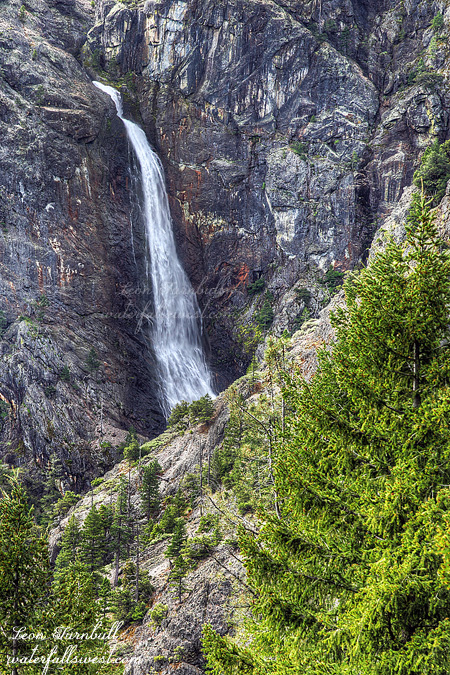 Getting to New York Canyon Falls in the spring at peak snow melt flow? Impossible you say! On a day hike no less? Most certainly impossible you say! Well the Waterfall Madman thinks differently. I first discovered this potential route a couple years ago but I did not have a chance to try it out last year. It would require three important things: one, a cloudy day, and not raining. Two, Foresthill Rd road needs to be open at least to Beacroft . And three, of course the river needs to be at a peak flow, which means early to mid April in most years (but not this year).
But wait! All this is exactly what we had this weekend. The forecast on Saturday was for mostly cloudy conditions all day. I called the Ranger office and they said Foresthill Road was plowed to Beacroft. And to top it off, we have peak snow melt this week thanks to the very warm weather. I changed my original hiking plans and decided to head back into New York Canyon one more time.
Two weeks ago, remember, I tried to backpack to New York Canyon. Unfortunately, the trail is now so overgrown it is completely impassable. At that time, there was so much snow that I could not even drive to Mumford Bar. I said that it will be at least a month or more before you can drive to Beacroft. And here we are two weeks later, and there is no snow left at all! There was no snow at Mumford Bar, and no snow at Beacroft. I could not believe it. That much snow had melted in just two weeks! So I was actually able to drive past Beacroft, almost all the way to Tadpole. This saved me 900 feet of hiking, which was huge. Even though I was ready to hike from Beacroft, if I had to I do not think that I would have made it all the way. This was one of the toughest hikes, if not the toughest, of my life. It is on the scale of the Wabena Falls hike, and I think based on elevation gain, that it is tougher than that one. Total elevation gain for this hike: 3200 feet.
I started my hike at about 6200 feet elevation. There was snow on the ground, about 2 to 3 feet, and I was hiking in the snow. I was unsure if I needed to take my snowshoes or not. The snow was hard packed, but I still had to gain 300 feet to the top of the hill. Would I need them? I decided to leave them in the car. I was not sinking in more than 1 or 2 inches, so I think I made the right decision. However, on top of the hill the snow was a lot softer, and snowshoes would have been helpful and made the hike much easier. Nonetheless, I managed without them, and I only sank through the snow once. As I was walking along, and with my foot already in mid air, I saw a big hole and thought I better not step in it, too late, I put my foot down and promptly sank through the snow one and a half feet. Well, no permanent damage done and I continued on.
On the other side of the mountain, we start off with a slow and fairly easy descent of 1000 feet. I lost the snow somewhere along the way. At this point, you see New York Canyon Falls for the first time. It is from a long distance away. I did bring my big heavy lens, which of course I did not want to bring on such a tough hike, but I figured I would need it. I took photos of the waterfall from up here with the big lens since I did not know if I would be able to get any closer or not.
From this spot, it is another 1700 feet to the bottom, and it is not for wusses. Honestly, when I found this potential route, I did not think, in fact I was pretty sure that I would not be able to get to the bottom from here. When you look at Google Earth, it looks steep, severely steep, crazy steep, stupid steep, cliffy steep. But it is worth a try, right?
I started the descent. Man, this looks steep! I figured I would just go down as far as I could, certain that it would not be far. I kept going down. And going down. And going down. And going down. You can see the North Fork American River below, and Snow Mountain on the other side rising high above; the views are spectacular. Far far up the canyon, I could see what looked like a waterfall. I'm not sure, but it may have been Wabena Falls. On the way down, there were a few spots that were especially steep, and the rocks were very loose and shifty so I had to be extremely careful. I did not need the rope, however, until the very last section at the bottom. I used it here, but only for safety, I probably did not even need it there.
Finally down, I made the somewhat much easier traverse over towards the waterfall. I say somewhat, because it was a bit brushy at the bottom, but once I got past the brush, it was easy.
Oh glory!
I came into view of New York Canyon Falls. What utter magnificence! From down here, the lower cascade of the falls is blocked by Chert Knoll as you can see. There is no view from this side which is not blocked. Even from the top of the mountain, the lower cascade is blocked from view. Nevertheless, you can still see the top 300 feet of the waterfall, the main drop of the falls, and it is absolutely amazing.
This is close to peak snow melt. I actually made it to New York Canyon Falls at peak flow after all these years! This was one of my major goals since first seeing this waterfall 11 years ago. On Thursday, the flow on the North Fork American River reached 5290 cfs. This was the maximum it reached. On Friday, it was 4900 cfs. When I got here on Saturday morning, it was a bit less. Essentially, it was about double the flow that I saw it in April 2006, when I backpacked here with my brother-in-law. Incredible!
I rested, and took many photos, thoroughly enjoying the moment.
But wait! There is more…
No Comments