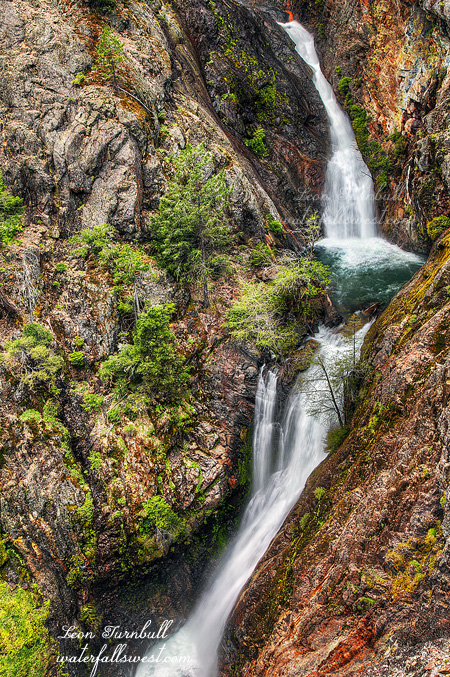 This is the lower two tiers of Lower West New York Canyon Falls, 62 and 73 ft. high respectively. When I did this hike a couple weeks ago, there was 2-3 feet of snow on the ground (sometimes less) at the 6600 ft. level on Foresthill Rd. It was quite easy walking through the snow at this location.
This weekend I did another hike, same elevation, but off of I-80 (before the Donner Summit). There was 6-8 feet of snow on the ground!!! These two locations are very close, yet so much more snow at I-80, I could not believe it! I was expecting a fairly easy hike down to the river, and losing the snow completely before I got down to 6000 ft. I'm not complaining about all the snow, but this day I could not even get close to where I wanted.
I realized right away before starting that I would need my snowshoes for this hike, as I was sinking in at the trailhead. So that was no big deal, and the snowshoe hike started off very pleasantly. It was easy going, but I was a bit tired as I climbed up to the 6900 ft. level. There were a lot of holes I needed to be careful of, and dropoffs into deep tree wells. I would not want to fall into one of them, I might never get out. The snow was quite slippery on these steep areas, and easy to slide, and sliding down a steep embankment into a tree well was not something I wanted to do.
As I descended into Palisade Canyon, the scenery opened up into beauty. Magnificent wide open landscape. Devil's Peak looms over the canyon, with snow on top, and light fluffy clouds over it. That mountain is *not* named appropriately. I followed fresh bear tracks through the snow down into the canyon, and I saw that Mr. Bear seemed to have trouble in one section as he climbed up an embankment, and the snow broke under his weight.
The snow was *not* disappearing as I descended, indeed the going became more and more difficult. Under the snow, I could not find the trail for the life of me. Sometimes I was on it (I guessed), sometimes I was way off base. I was hiking through a brushy forest, surely there was no trail through this area. There were numerous streams to cross, and these were very difficult, not because they had great flow, but because they were in steep areas, and the only way across them was on snow bridges, which I was extremely leery of and praying furiously that they would not break under my weight as I crossed on them. In one instance as I was crossing such a snow bridge (this one was not over a creek), I heard a thundering crash as the snow collapsed beneath my feet. I did not break through the snow, but it sure scared the heck out of me. It was loud! I should have turned back by then, but I kept going, thinking it would become easier as I descended and found the trail proper. Nope. By 5800 ft. elevation, there was still very much snow, and eventually I came to a spot that was not passable, or it would have been a huge effort to pass it, and by this time I was done for. It took five hours to hike six miles. It was well past time to head back up the mountain. I ate my lunch and rested, then reluctantly headed back up. Along the way, I found fresh tracks from a coyote, who had been walking in my snowshoe tracks that I made on the way down. I guess I just missed him. It took another five hours back to the car. I was beat.
No Comments