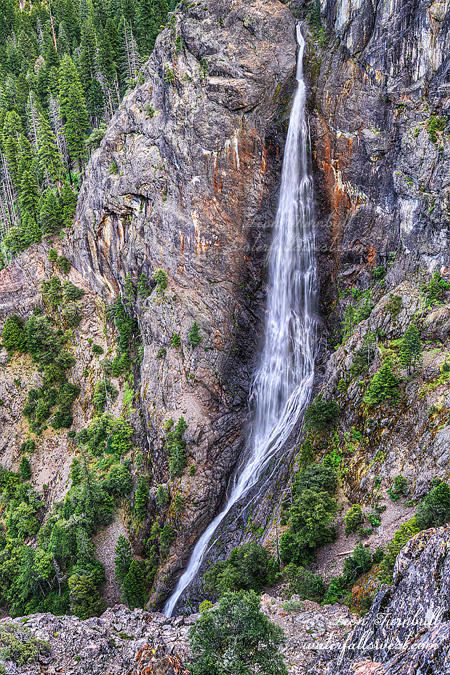 The next day I went back out to Tadpole. This time I was hiking in there. I hoped. No flat tires. No idiots getting stuck in the snow. So far so promising.
There was still a lot of snow on the road up to Canada Hill. No one could drive up there yet for sure (why would that guy even try it!). It'll be another 2-3 weeks before the snow is gone up there.
People had walked up there, however. I saw tracks even going down into Sailor Canyon. This was surprising. Some one has been down here recently. Who? How far did they get? Where did they go? How long were they down here?  Did they die? Inquiring minds want to know. I actually did find out who was down here later, and he made it all the way down to the waterfall and back in one day, and even took a particularly dangerous and crazy path. From the sound of it, it may be rather lucky that he made it back out.
Anyhow, I did not hike down Macklin Ridge as I usually do. I wanted to take a little detour to check something out, so I went over to New York Canyon at Oak Flat. I have done this before. We had no trouble going this way whatsoever.
Not so anymore. Again, the brush has grown up tremendously since the fire. It was monstrous! I almost turned back but I went just a bit further and I found a path. At first I thought it was bear but I guess it was human. Nonetheless, it is still quite over grown. We really need a lot more people taking this trail or it is going bye-bye forever. So come on folks, get down there. It's not that hard. Really.
My plan was to camp by the Creek, then go down to the Falls in the evening. But would there even be a place to camp? I honestly did not think there would be any good camping spot, or any spot at all, from what I remembered in my head. I remembered it being rather brushy, with a steep descent down to the creek. What was I going to do about this?
First things first. I wanted to cross the creek and make sure it was not flowing too strong. That could be a severe blow to my plans if I could not even cross the creek. The flow was 2400 cfs at North Fork Dam. That is a pretty high flow. Yet I was able to cross without any difficulty. Awesome possum. The Falls will be raging tonight.
From down by the Creek I saw a good potential campsite back on the other side and with easy access to the water. I went back across to check it out. It was perfect. A wonderful open area with a nice breeze and no mosquitoes, and some shade as well. Splendid. I set up camp, ate lunch, then relaxed for the afternoon, listening to music (which I can do now cuz I have a solar charger – no worries that my phone will die).
After a good rest I went down to the Creek and crossed again. Just above the 462 foot high waterfall. No worries, Tara. Up the other side and then down down down to Chert Knoll. This part seems to get steeper every year. The waterfall was spectacular! It is certainly the best I've seen it from this spot. Normally you can not even get here til the flow is almost done. It was a bit lower than when I was down here a few weeks ago but I was further away then. It was also very nice that I don't have to kill myself hiking out of here at night getting back to the car. I can just take it easy tonight. This is now the sixth time I have been to New York Canyon Falls, the first time was back in 2003. It will not be the last. My next goal will be to get down to Chert Knoll when the flow on the NFAR is 4000 cfs. Crossing the creek will definitely be interesting at that flow.
While down at the Falls I had a thunderstorm pass over. It did not rain much but I had to take shelter in case of lightning. Where there is thunder, there must be lightning. But there is no shelter down on Chert Knoll! Fortunately it was not a bad thunderstorm but it did rain lightly for quite awhile and after this the breeze stopped. That brought out the mosquitoes. Dang.
When I got back to my tent I found it wet inside. Somehow water collected under the tent and it got through. It should not have done that. It seems the rain went down the hill, under the tent, and on top of my ground sheet where it collected there. I was just praying it didn't rain more in the night.
But stick around, we are not quite done yet …
No Comments