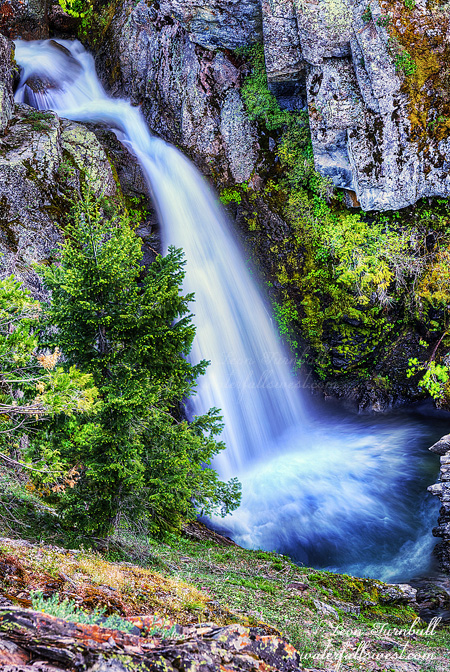 It may be little compared to its neighbors but it is no inconsequential waterfall.
I wanted to get up early and go on another hike but I could not sleep at all. I was not even tired. I should have been tired! It was well after midnight and I still could not sleep. I don't have any idea why. I was comfortable in my tent. I had a good hike the previous day. Why can't I sleep! I turned off the alarm and slept in as much as I could. Then I just relaxed at the campsite in the morning, with coffee and breakfast. It was a beautiful morning down in New York Canyon.
I did find this one new surprise waterfall. It is in close proximity to massive New York Canyon Falls and the other big Falls on this Creek, so you might think this one should be left out and dismissed. It should not be dismissed! It is a very lovely 25 ft high waterfall. I could not get down to it but I did manage to find a view from the edge of the freaky cliff. I am calling this one Little New York Canyon Falls.
I was curious about hiking back out on Macklin Ridge. Would the brush be overwhelming there also? I wanted to know. However, there is no water on Macklin Ridge (you need to do something about that Rob Macklin!). I only carry one water bottle when backpacking, and climbing up 2000 ft I would definitely need more than one bottle to drink. Thus I decided to go back up via Oak Flat, the same way I came down. There was more water up that way. So that is what I did. I made good time climbing up that 2000 ft to the top of Canada Hill and I felt great even with the weight I was carrying (which was only about 30 pounds). I rested at the top, sending text messages to my wife (it's the only place I can get cell service around there). Meanwhile some speed hiker walked by while I was sitting there. Where did he come from? He went by so fast I did not even have a chance to talk to him. He was the only animal (human or wild) I saw all weekend (not counting squirrels and birds). It was a short, but an excellent weekend down in New York Canyon.
No Comments