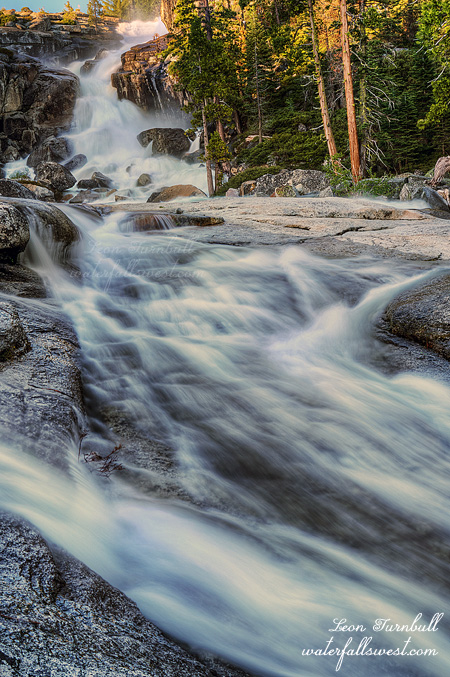 I was hoping to drive up to Robinsons Flat and camp on Friday evening. Remember, the guy I talked to last week said that they had gone up there the back way via Mosquito Ridge road. It seemed unlikely to me, that road is higher elevation. Yet they said there was only a few snow patches that way. It seemed promising, so I had to try it. Well I hit 6200 feet, and ran into a big huge snow patch, an impassable one, not a small one for sure. What? How could anyone drive by this? I saw no evidence that anyone had driven any further. Perhaps they had a big jeep and got by, but there is no way I could drive by in my SUV. Even if I could, there would still be another 700 feet to climb with more and bigger snow patches. I had to turn around.
Well, I had back up plans and other ideas in place, but I really really really had my heart set on hiking from Robinsons Flat and I did not feel like doing anything else. So I started to drive back to Foresthill, still pondering if I should drive home or drive somewhere else.
That is when I came across the lady. Perhaps I will call her the tramp for the sake of this story. It was almost dark, she was walking down Mosquito Ridge Rd by herself, out in the middle of nowhere. She was walking all the way to Foresthill, essentially from near Grouse Falls. That is a 20 mile hike, and she had only walked about 5 miles or less thus far, and don't forget the last 10 miles is a steep uphill and she would be hiking up this in the dark. She was a scary looking lady, dressed like a vagabond, tattoos, playing horrendous rap music on her phone, carrying a spear (to ward off animals she said), and also carrying a hatchet (I did not see this, and I think I'm grateful). I rolled down my window and asked her if she needed help. She said she would be very grateful for a ride into town. She was actually a very nice tramp (er … lady),  despite the attire, obviously not wealthy, and she said her truck had been repossessed and she had to go back to Foresthill to claim it again. She lived up on the mountain.  A hermit, though she called herself a hippy. Well of course when I told the story to my wife later, she was aghast. She could have been an axe murderer! Or just escaped from prison! She did not believe that the lady could be telling the truth about walking back to Foresthill to get her truck. But for me, I had a good feeling that she was legit and really needed help, so I was not apprehensive about giving her a ride. It was certainly an interesting encounter on the wild side.
Anyhow, fast forward to Saturday afternoon. My wife, who is working as a pet sitter in Folsom (do you need someone to pet sit your animal? Call Tara Turnbull! 916-337-4695), she had a few hours with one of her dogs to spend. She wanted to take the dog somewhere cool, not hot, and not have to pay $100 (or something) for parking at the lake. She wanted suggestions from me, and she wanted me to come with her. Well if you want me to come with you, then we must go to a waterfall. She said OK. I said how about Bassi Falls? She said OK again.
So we picked up the dog, and drove up the hill. It is a very easy 2 mile hike to the waterfall. We only had the little car, so we could not drive to the normal trailhead. The dog had a blast. It was her (the dog's, not Tara's!) first time seeing a waterfall and a rushing creek. Getting into the creek was not an option, despite how much the dog may have wanted to do so. Bassi Falls, she was raging! Now Bassi is a true lady, and today the lady was in fullest form, at her absolute best.
I have heard some people say recently that peak snowmelt has still not yet happened at this creek and others in Northern California (Bassi Falls in particular). I assure you, however, that peak snow melt is long past at Bassi Creek and in the Northern Sierra , and that happened about a month ago on May 5). That may not be the case in the central and southern Sierra, it usually happens later there, and some of those rivers have not reached peak yet. However, in the Northern Sierra peak is well passed. There are two big differences this year, however. First, there is still a large snow pack, and the strong flow is continuing this year for a much longer period of time, and will continue for another month if not longer. Second, the peak flow this year (and also the current flow), is much higher than the peak flow of the last five years.
I have been to Bassi Falls many times. I am 99% certain that I have never seen it flowing this strong before. A full month after the peak flow! I know this because I could not get up as close to the Falls as I usually can (certainly not without much difficulty anyway). The little streams you can usually easily wade across had a very strong pull, I had to be extremely careful getting in the water this time. One slip and I would be gone. Back to Folsom Lake the fast way. Also, I was able to find new compositions that I have never seen before. For instance, I have never seen water flowing down this little channel before, and it was such a good little stream, it made for a great foreground. It was quite fascinating.
We stayed for the good light. Then we hiked back, arriving at the car just before dark. It was great to see the lady again, especially after missing out Friday night on what I had wanted to do.
No Comments