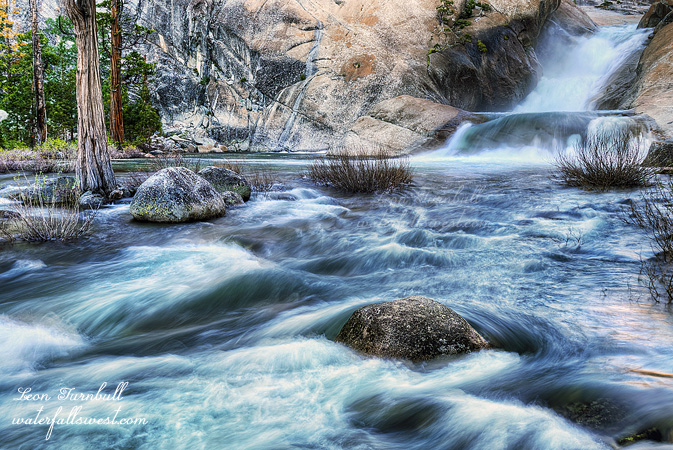 It was a very cold night, much colder than the first night. I'm sure it was below 32 degrees. The little streams and puddles were all frozen in the morning. I survived. I was wrapped up in all the clothes I brought with me and snuggled deep in my bag.
After breakfast I packed up and headed up the mountain. I thought I made great time. I was following my tracks in the snow from the previous day and it was quite easy. Yet it still took two hours to climb to the top (3 miles, and only about 800 feet ). Really!?!? It should not have taken so long. Where did the time go? I wondered how long did it take me to go down to the bottom the day before because surely it was much longer.
I saw many animal tracks in the snow. All fresh. Coyote. Deer. Mountain Lion. On Styx pass, I saw a lot of big cat tracks . He must live up there. It figures that is where the Lion would live. In Hell. I did not see him though.
I did see a truckload of bear tracks, more so than any other animal. They were all over the place, even at my campsite (not a place you want to see bear tracks). I wondered if I would see one. They can't be too far off, some of these tracks are very fresh. Indeed, as I descended down the gully (off trail) to my next campsite, in fact I did see one. A big brown colored bear. A grizzly bear. No, not a grizzly bear. There are none of those in California, but it was a big brown one. He was right in my path just wandering about in the middle of the day. I gave him a wide berth and thus ended up going through more brush than I desired, but better that than bumping into the big guy.
There is a lot of brush on this big 1500 ft descent, especially in one particular cliffy area. It was not anything short of awful. I came close to turning around but kept on. After getting through the brush, I had to descend straight down a creek bed at one point, going down steep scary granite at another. I finally got to the bottom.
Spectacular!
The campsite is right at the bottom of a stunning 50 ft waterfall. It doesn't get any better than this.
I think the site is called the Flintstones due to rock tables and chairs in the camping area supposedly, but I did not see this. I was not impressed by the reasoning around the name of the place but anyway, it is an awesome spot.
After dinner I tried to get up to Cherry Bomb Falls but I could not do it. I thought it would be easy, but I could see no way to get up above the ridge in order to get to the Cherry Bomb Falls. Others have done it but how? Did they cross the river? It would seem to be the only possible way to get up, and I do think the proper route is to cross the river, but clearly that was not possible on this day.  I was bummed. This was the main reason I came down here, to see this particular waterfall.
Will I try another year? Perhaps but I just don't know at this point. It is a bit beyond my comfort zone. At least I found a couple nice waterfalls down here, including this beauty at the campsite. It was not a big loss at all.
No Comments