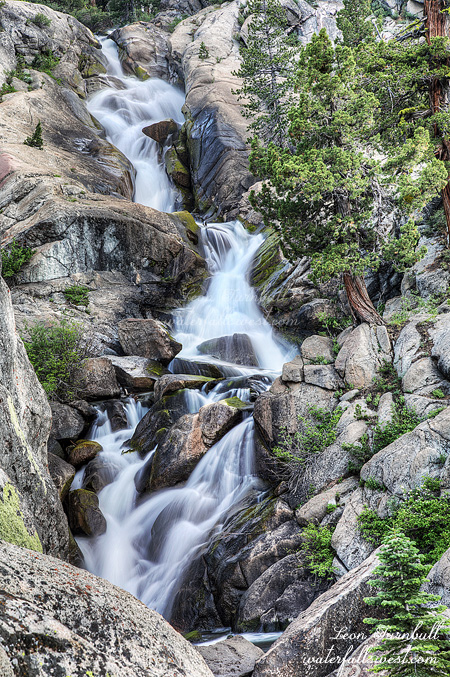 I have never been to the waterfalls on Hwy 4, Ebbetts Pass before. This seemed like a good weekend to go up there. In fact, I have never driven Hwy 4 from the Markleeville side. I drove up to the summit from the Arnold side once, but that is it. I have to say for such a major highway, the road is extremely narrow going up to the summit on the Markleeville side. You sure hope a big truck won't be coming down as you are driving up.
Anyway, my idea was to drive up there after work on Friday, and camp in my tent at the campsite up near the waterfalls. Normally I would take the Gator (as we call it affectionately – the SUV), and sleep in the vehicle, but my wife had the SUV this weekend, so I drove the little car. No possible way to sleep in that thing so I brought my tent instead. I arrived at the campsite, found quite a few open spaces, selected one of them, paid my fee, set up my tent, then took off to find some waterfalls before dark.
I have heard this waterfall called Silver Creek Falls and Upper Cascade Falls. I never understood the Upper Cascade name. It makes no sense. Does this mean there is a lower Cascade Falls as well? I also did not know if these were two separate waterfalls or they were one and the same. Well I think I figured out the mystery now that I have finally been there.
There is a sign along the road near the top of the falls that says Upper Cascade Creek. So that explains the name. Actually, there are three creeks that come together here, and two more drop in below the falls (and a few more below that). One of the other creeks is Silver Creek. In fact, after they all come together Silver Creek rules the day so that technically makes the official name of this waterfall Silver Creek Falls. But if you want to call it Upper Cascade Falls, then go right ahead.
Silver Creek Falls is certainly a beautiful cascade, 64 ft. high. I walked down on the granite rocks below the highway. You come to a fabulous view of the falls from on top of the rocks. The dropoffs here are intense. I got as close to the edge as I dared, I was not wanting to slip off the edge on that slick granite.
I enjoyed the view, made it to a couple other waterfalls in the area as well, then arrived back at the campsite at dark. This is when I realized I did not have my headlamp. Doh! Where was it? Did it fall out of my pack? Or did I leave it in the other vehicle? (the latter, as it turned out). It is supposed to always be in my hiking backpack so I was a bit stressed about not having a light. At least I had my iPhone light. As long as my phone battery did not die, I would be all good for one night.
Also, as I locked the car for the night, I noticed small red lights on the doors. I have never noticed this before. I don't usually drive this car, my wife does, but still you would think I would have noticed this before. Why are they on? Why aren't they turning off? I had no idea what was going on. Would the car battery be dead in the morning because of this? It was a bit worrisome but in the end I decided it must be normal for them to be on. The battery was not dead in the morning.
No Comments