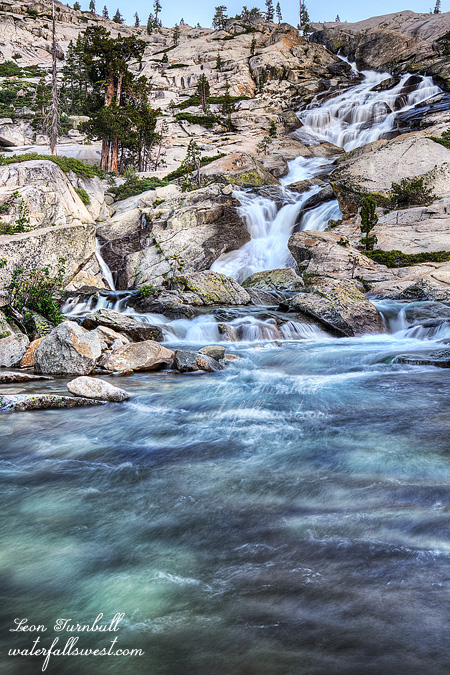 Got mosquitoes? No sir. Negatory. Nopity nope.
I have heard that the mosquitoes have been horrendously epic this year in certain places such as the Eastern Sierra and Yosemite high country. That would make sense considering the big winter we had. I have avoided going to those places this summer even though I did want to go. I hate mosquitoes. Perhaps I will go later. Yet I also heard they are not bad at all in other places of the Sierra, even in some places that are normally horrible such as Wrights Lake and the Desolation Wilderness. I like hearing stuff like that. It's off to the Desolation Wilderness for me.
I did not really want to go backpacking again this summer (I still want to go more in the Fall). It is 100 degrees in the valley and pretty hot in the mountains also. However, my wife and kids are gone for the week and I was playing a bachelor with nothing else to do. I suppose I could do a couple day hikes but I could not think of anything good so backpacking it is. I figured if I could do all or most of my hiking in the morning it would not be too bad. Hmph. Yeah, right.
I left early for Loon Lake. I heard there were not any mosquitoes here last week so maybe it would be ok at the place where I was planning to go from there. There weren't any when I arrived at the trailhead about sunrise.
What about my injury? My arm and leg have had a lot of pain the last 3 to 4 weeks. My arm is now completely healed and my leg is getting there but not quite. This last week was the first time I've been back to the gym. I realized it was the machine at the gym I've been using that caused the injury. If you keep doing the same thing over and over and more and more of the same thing then you can get hurt. Carpal Tunnel is a good example. When I go to the gym from now on I need to be careful to mix it up a lot more. Anyhow, the leg has not been hurting when I have gone hiking, so this trip should be ok.
This would be an 11 mile hike one way with minimal elevation gain and mostly all of it on a well maintained trail. It should be easy as pie. Well we all know that when the Madman says that it usually means it is not going to be anything of the sort. However, surprise surprise, this time it actually was easy. But when I hit that sun at around 9 or 10am, it was definitely hot already. Good thing I started early. I would not want to be out hiking in the afternoon for sure.
I saw one weird slug like snake thing on the trail. Is it a giant slug or a strange snake? A snake obviously, but I did not know what kind of snake it was. I poked it (gently of course!), it only moved a microcosm. Not a rattlesnake. I looked it up later, and I believe it is the northern Rubber Boa. I don't think I have seen one of these before.
Much of the trail was very rocky. I hate hiking on trails like this. It is very hard on your feet and you get blisters galore (and I got blisters galore). You have to pay attention to where you are walking so you don't twist an ankle, and generally just try to walk on the flattest rocks. As I was walking along, keeping my eye to the ground, I heard and glimpsed out of the corner of my eye a large animal coming out of the bushes towards me. I realized it was going to attack me, whatever it was. Was it a bear? Was it a mountain lion? Was it a Sasquatch? No, it was a big dog and it came at me barking loudly. It scared the living crap out of me. I really thought it was going to attack. I fell back and tripped, landing on my butt on the rocks. Ouch. Where are the owners of this thing? I finally saw them coming up the trail and they called the dog away. Damn. I really don't mind dogs on the trails (in fact, it's my number one pet peeve when dogs are not allowed) and I don't mind them being off leash either, but not if they are going to attack people and you cannot control your animal. Keep it on the leash people! I wonder how many other people that dog scared this weekend.
After 10 or so miles of hiking, I came to the Rubicon River crossing. The river was flowing hecka strong, most hikers continuing from here would need to cross the river. I do not know how anyone could cross here, but I have read of hardcore hikers making dangerous crossings this year. Not for me, thank you. This is where my trail ended. I would not need to cross any rivers, but I would need to go cross country from here. I could see the waterfall in the distance. My final destination was not far.
I arrived at Horseshoe Lake Falls where I would camp. The waterfall was spectacular! It is about 280 ft. high and still flowing strong at the end of July. Incredible beauty, and I would be camping right beside it. Finding the perfect and epic campsite in the remote wilderness is an art form. There was a very small spot for my tent near the creek with a great view of the falls. It had a big tree that would keep me in shade all day, and a nice little breeze. Perfecto. There were a couple other slightly bigger spots but they had no shade and there was more brush which I thought might bring out the skeeters in the evening. I set up my camp, ate lunch, and relaxed all afternoon, listening to my music, and watching thunderstorm clouds develop in the distance. All afternoon, they were really trying to come towards me from two different directions. They would start to come closer, then they would move off in the other direction. It would continue like this all afternoon. I thought I kept hearing thunder in the distance, but it was hard to hear anything over the roar of the waterfall. In the end, however, God kept the clouds and rain away from my location. Thank you for that, Lord.
I took my photos of the waterfall in the evening. There were many good view points and I took many photos. However, I think a better view would have been on the other side of the creek. I tried to cross it, but I balked. The flow was just a bit too strong and deep. Never mind the Rubicon River, I could not even cross this little creek. Perhaps if I had my proper water shoes I could have done it (not sure), but I only had my water socks which have zero traction. The pull in the creek was strong, and the rocks slippery. If I had slipped, I would have been gone over a small waterfall. It was definitely not worth the risk. I still had a great view from the bottom of the falls, standing in the middle of the creek (where the flow was minimal). It was an epic day of backpacking, and it was not over yet…
2 Comments