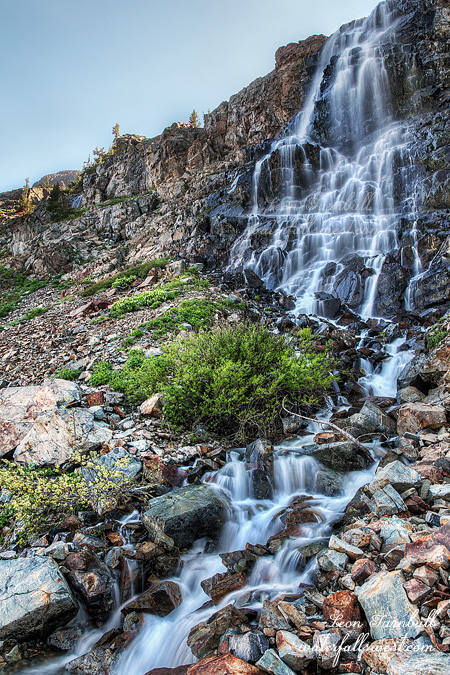 It would be back to Lake Tahoe and the Desolation Wilderness once more for me, and this time my daughter Nekoda wanted to tag along. I like it when my children want to come with me. It seems like such a rare thing.
My initial thought was we would backpack up to Half Moon Lake for one night. However, since it was last minute I could not get a permit, so thus I decided we should just do a day hike instead. It is only 6 miles (1 way) and a 1700 ft. elevation gain. We can do that in a day, right? Nekoda can do that in a day, right?
We arrived in Lake Tahoe around noon, stopped at Subway to get lunch and brought it to the Glen Alpine trailhead. I was shocked to see the parking area completely full. I would expect this on a Saturday, but this was not a Saturday. I prayed for a spot. There was a car ahead of me, but he turned off to the right. After he turned, another person waved me into the one remaining spot, located right at the trailhead sign. Perfecto! Thank you once again, Lord. It would really suck to have to walk an extra mile just to get to the trailhead. This was going to be a tough hike as it was.
We sat down by the lake and ate our lunch. The local chipmunks joined us, literally climbing up on our backs to get any morsels we would give them. Ok not literally, but almost. They were all over us and not shy at all. I suspect they get plenty of handouts in this area.
I heard the mosquitoes have been bad in this area in recent weeks. I have experienced them here in the past, and it was not pleasant. I was prepared for the worst. However, I could not get a very recent report and the last one I got was a couple weeks ago. Perhaps they have subsided since then. I hoped so, anyway. As it turned out, we did not see any bugs on the hike up to the lake or while up at the lake. Only on the hike back down in the evening did the mosquitoes come out to feast, but once we put on bug spray, they left us alone. So all in all, not too bad at all.
About halfway up the mountain, Nekoda almost bonked. Apparently this was a tougher hike for her than I thought it would be. She does not hike much, but she is a dancer, and she is dancing about 5 days per week usually, so she should be in great shape. Now since it is summer, she has not danced in the past couple weeks, but she should not get out of shape in only two weeks. Thus, I figured this hike would be fairly easy for her. Humph. Well, I really wanted to get up to this waterfall, but I also know Nekoda is more important than the hike. If I take her on a hike that is too hard for her, that is all on me. My fault completely. I told her that and that it was perfectly ok to turn around if she needed to. I can do this hike anytime. But Nekoda is a trooper. She always has been a trooper. Remember the story of her continuing the hike with me last year after she was stung by a bee? She wanted to continue on, so onwards we went. Before too long, the terrain leveled out and got much easier the rest of the way to the lake.
When we got up on the ridge the views were astounding. We could see over to Susie Lake and Susie Lake Falls (roaring), and the drainage above Susie Lake. There was still an incredible amount of snow above Susie Lake. It is the middle of August. I could not believe how much snow is still up there.
When we finally got to Half Moon Lake, we could see the waterfall on the other side of the lake, and it was flowing very strong. Awesome. There was still snow at the base of the waterfall. Nekoda thought it just looked just ok, and not so awesome. Wait til you get up close to it, dearie. You will be impressed. We are still a long way away from it. It was a longer hike to the end of the lake than I anticipated. The trail became quite overgrown now, but it was not too difficult. We were early however, so we went down to Alta Morris Lake to spend an hour or so.
What will you give me if I jump in the lake, I said to Nekoda. The lake was freezing cold. There was still snow around the lakeside. I will give you a kiss, she said. Ok that works, I said. The lake was blistering, but I dipped my head completely under for a very brief second, while she took photos of me doing it. It was fun and refreshing. You have to do this, I told her. She said, no way! Nonetheless, I talked her into it and she went under as well. Fun fun fun. I never did get my kiss, though. She said that since she did it as well, she does not owe me anything. Lame! After we huddled together to relieve our hypothermia, we went back up to the waterfall. We had to walk up a snow field to get up to it. Nekoda waited while I went over closer to the falls to take my photos. It is a magnificent 117 ft. high waterfall.
Hiking back down from the falls, I could see a large animal on the snow off in the distance. From this distance, it looked like it was getting ready to make a run for my daughter, who was way off ahead of me. It was too small to be a mountain lion, but I was definitely thinking coyote or bobcat. As I got closer, I could see it was neither of these. It was a bird. It was an enormous bird. It was a golden eagle. It was sitting on the snow, eating something or other. So I guess it was not interested in attacking my daughter, but it was definitely interesting to see it there on the snow.
We made good time hiking back down the mountain. We saw a couple backpackers coming up. Their packs looked enormous. And I thought that eagle was big.  It is not pleasant to go backpacking when you are carrying such a huge weight. I did that last year, my pack was 45 pounds. And I'm sure these two had at least 55 pounds on their backs by the looks of it. I am so glad I cut my pack weight to about 32 pounds this year. It is so much more pleasant! Backpacking is supposed to be fun! Anyway, it was getting quite late and I do not think these two were going to make it up to the lake before dark. Not at the rate they were going (which was zero mph). It was 8:30 when Nekoda and I got back to the car. Just a little past dark. Not too shabby.
It was a glorious hike up into the Desolation Wilderness, and we did not just see the one awesome waterfall. We saw a second fantastic waterfall on the way back down as well. Coming up next …
2 Comments