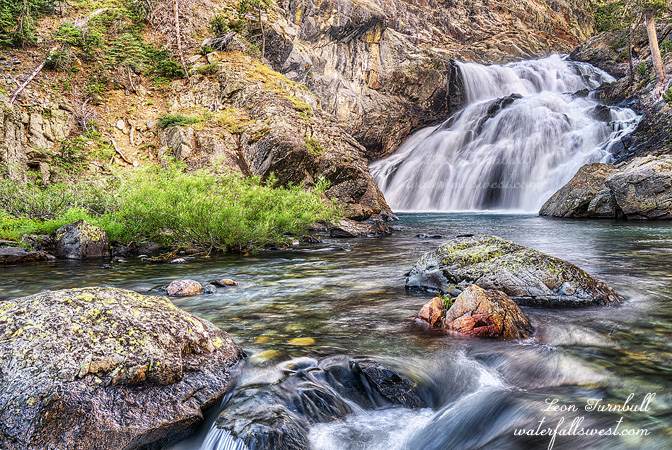 I had this trip in my mind for 3 months. I planned it out meticulously. The detail was calculated down to an hourly minutiae. I spent many hours working out this plan. I had 19 or 20 waterfalls to see in four days, and I needed to see them all in good light. Plans always go awry at some point.
The first (and not last) kink was the weather. All of a sudden a day before my trip, the forecast started to show extreme cold and even snow. I had prayed for no rain, I had prayed for no fires, but I did not pray for no freezing cold temperatures. Doh. God is just fooling with me now.
I decided to leave a day earlier than planned and return a day earlier. This would avoid the snow storm, but not the cold. Well, I knew I could handle the cold. In June, it was down to freezing at Cherry Creek Canyon. I survived. I just needed to bring more clothes. Leaving a day earlier would mean I would have to start my hike later in the morning and minus one waterfall.
I had brand new hiking boots that I had not yet worn on any hike. You know what they say: it is extremely foolish to go on a big hike with boots not yet worn in. I tried to soften them up at home as best as I could without going on any actual hike. As soon as I started the hike, I knew I would be fine. They felt comfortable and great. I love my REI Merrell boots. They are always so comfortable. I got no blisters on the hike. With my old (falling apart) boots, I would have gotten blisters for sure.
I was upset my pack weight was 37 pounds. That is two more pounds than my self imposed weight limit. Oh well, you say, what is the big whoop! It is only two pounds! Two pounds is a huge difference in backpacking, especially when you will be climbing over 6500 feet in elevation. Yet I had no choice. I had to take extra food for four nights and extra clothes for the cold. I could not figure out anything more that I could cut on the weight. I will just have to suck it up. Them two extra pounds are going to kill me, I thought.
About two miles in I met some backpackers camping on the side of the trail (nowhere in particular). They said they had to make an emergency stop the prior night, and would have to hike back down. Why? Also, they said they had been intending to go up for opening day? Huh? Opening day for what? For start of Fall Color? No. I guess they meant hunting? Are you even allowed to hunt in the Wilderness? I guess they are allowed, but in that case, I'm sure glad they did not make it. The last thing I would want to listen to in my wilderness experience is the sound of gun shots all day long. How awful would that be? And what are they going to do with anything they kill? Carry the big thing 15 miles back to their vehicle? Not with the weight they were already carrying. In fact, I found out the cause of their emergency stop: One of them was carrying 100 pounds of gear up the trail! Wow! 100 pounds! He was a big strong guy but 100 pounds? I think not. I had about 45 pounds last year, and that was far too much weight. Maybe 37 pounds is not so bad, after all.
These guys had not yet even crossed into the wilderness boundary. I mention this because after passing them and crossing into the wilderness, I saw zero humans for the rest of my trip. Four days. No humans except me, myself, and I. I literally had the entire North Fork San Joaquin Canyon all to myself. Nothing but me and the birds, lizards, and the squirrels. I do not count birds, squirrels, and lizards as wildlife encounters. Unless however if it is an unusual bird (such as a raptor – which I have seen of course but not on this trip), or an unusual squirrel (such as ROUS – Rodents of Unusual Size – which I have not seen), or an unusual lizard (such as a Tyrannosaurus Rex – which I have not seen). I did see a baby garter snake, so I guess that barely qualifies as a wildlife encounter. Oh yeah, and there was that one other creature I saw (you will have to wait for Day 2 for that).
Two of the three creeks I crossed on the way to the river were dry. This was a bad sign. In this very wet year, I would have expected all these creeks to have water. One of them looked like it had been completely dry for a month or more. I was counting on these creeks for drinking water. On the return trip I would have a tough uphill climb, and I would need that water. What was I going to do? Just die of thirst in the middle of the trail? How lovely would that be? I can think of better ways to go out than that. This could be a bad sign for the waterfalls up ahead as well.
Well, despite the extra weight, I felt good on the hike. However, I started feeling tired just before I got to camp. It was a very long 10 miles. The first seven were uphill, the last 3 were downhill, and a very steep downhill. As I said, that was something I was not looking forward to when I had to climb out of the canyon later. When I got down to the NF San Joaquin River at Hemlock Crossing, I found plenty of water. The side creeks dropping into the river were also flowing very well, no worries about waterfalls; most of the creeks had more water flowing than I expected, but there were a couple creeks that I was a bit disappointed in. I was later getting to camp than I wanted to. According to my meticulous plan, I had one hour to setup camp, eat my dinner, then I had another hike to do to see some evening waterfalls. The evening hike really did me in. I was so tired. (actually, it probably did me in for the rest of the trip and I had to cut out a couple falls from my great plan of unusual size – but more on that later). Essentially, I had been hiking for 7 straight hours with few rests along the way. Nonetheless, I saw four Falls in the evening, and all were beautiful. This one here was one of my favorites on the entire trip. It is an incredibly gorgeous waterfall on the river, about 50 ft. high. It is one of 12 significant waterfalls on this river, and perhaps the best. This is where I camped the first night, and listened to the sound of the roaring water as I drifted off to my much needed sleep. Sweet perfection.
2 Comments