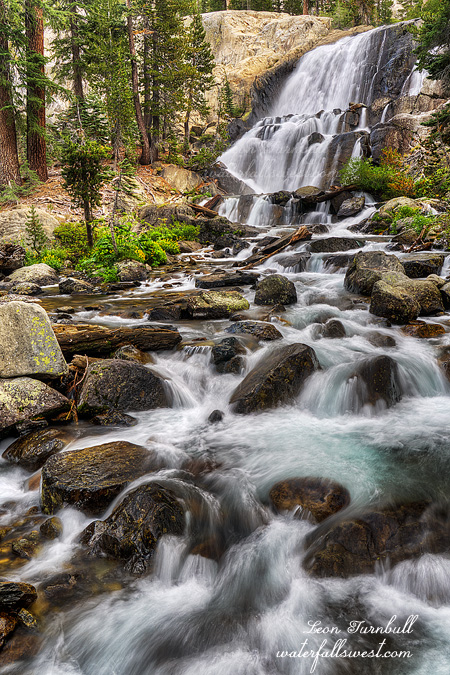 It was not 32 degrees the first night. According to every forecast I read, every night was supposed to be that cold. I was prepared for the worst. I brought extra clothes for sleeping. I even went out and bought a new $80 merino wool shirt from REI the day before I left because I was freaked out that it was going to be so darn cold on this trip, even more than my June trip when I had to put on all the clothes I had brought with me just to keep from freezing to death at night. This trip was supposed to be even colder. I did not even need the darn new shirt! I was quite cozy in my sleeping bag all night long. I did not need or wear all the clothes that I had brought with me. It was certainly cold, but certainly not anywhere near 32 degrees.
I got up early in the dark and packed up. I needed to get to four more waterfalls in the morning before the sun got to them. After these four waterfalls, I had a 2300 ft. climb up to Twin Island Lakes. As you recall, my planning was meticulous for this trip, and I had a schedule to keep. An important schedule that nothing could break. Except, that is, for the rebelling of my body.
It was quite apparent right away that I would not make it to my planned destination. I was totally bagged from the day before. There was no way in any part of my imagination that I could climb 2300 ft. up to the lakes. I am in good shape. The best shape I've been in since I got married 18 years ago. I did not over plan this trip. I should be able to make these hikes, but I struggled more than I thought I should. Perhaps it was the high elevation? Or perhaps it was the extra pack weight? Or perhaps a combination?
Anyway, I got to the first four waterfalls as planned. I then continued up the trail to my next camping spot, which was just a meager 900 ft. elevation gain from the previous day. This was supposed to be my camping spot for Day 3, not Day 2. There are a number of waterfalls in this vicinity including a couple surprises. Once again, I found a superb camping area next to a majestic 50 ft. high waterfall on the North Fork San Joaquin River (pictured here). It was a surprise to me how incredible this particular waterfall was. I had actually thought the falls above this one would be the bigger and more spectacular one.
The trail from Hemlock Crossing up to Twin Island Lakes is what you might call seldom used. I do not think this river sees much human action, even in the summer. It is no wonder I saw no other person for four days. The trail is much overgrown, it is very difficult to follow, and in some places completely gone. It gets worse and worse the further you go. There are rock cairns in the rocky granite areas, and I was concentrating like mad to follow the trail. Where is the next cairn? I see nothing! Nothing I tell you! I was going slow, and got off trail more than once. At one such place, I got off the trail and ended up in a brushy section. This cannot possibly be correct, I thought. At this point, I heard a big animal in the bushes up ahead. There is only one animal that could make that much noise: A bear. Sure enough, it was a big brown bear. He took a good look at me. Then he continued up the hill through the brush. (Making much more noise). Awesome possum. If I had not gotten off trail, I would not have seen him at all. When I came back to the spot I had gotten off trail, it seemed so obvious which way the trail went. How could I have possibly missed this turn in the trail? I think perhaps God made me miss it so I could see the bear. Well, that is what I think anyway. However, the bear was pretty darn close to my intended camping area. That is probably not a good thing, actually.
I setup camp, had lunch, then took a much needed nap. I still wanted to do another evening hike again. To do this one, I would have to cross the North Fork San Joaquin River. I made the crossing at my campsite fairly easily. I had been quite concerned I would not be able to make the crossing, even this late in the season. I did not bring my proper water shoes. I already had too much pack weight, so I had to cross in my no traction water socks. Well, it was not too hard. I climbed up into Bench Canyon to where I would find a 400 foot high waterfall. Unfortunately, Bench Canyon was the one creek that had much less water flowing than I had hoped. This particular falls would be spectacular when flowing strong, but now it was just a bit disappointing. The falls of despair. Still though, it is 400 ft. high and quite an amazing area. It was a difficult 900 ft. climb up to the falls. I suppose I should not have done that considering how tired I was. But it is a 400 ft. high waterfall! I had to do it. I came back down to the river at a different crossing point. Umm, this crossing looks much harder than the one at the campsite. The water is quite a bit more deep and swift here. All I have are these stupid water socks. But I had to cross back to the other side! It would have been too hard to go back up to where I had crossed initially. I had to do it here and now. No choice. So I very carefully made the crossing, making sure each step was firmly planted. I made it across without any trouble.
I had another scare as well on my way back down from Bench Canyon. This one was worse than anything else. I thought I lost all my photos! They were not displaying on my camera. It showed zero photos on my memory card. What a disaster this is! Did my camera corrupt my memory card somehow? Oh man, I was in utter distress, the pit of despair. All those places I had just been to in the last two days, and now I have nothing to show for them?!? I did not know what to do about any of this. I wailed loudly. If anyone was in the canyon at all, they would have heard me. But we know there was no one around anywhere. I am sure the bear heard me though, and was probably scared for his life, and ran far away from my camping area (that's a good thing). What will bring me out of the pit of despair? True love. Of the waterfalls. Actually, after fiddling with my camera settings, the picture display came back to life. Whew. I am still not totally comfortable with this Sony camera. I am just so grateful I still had my photos.
I was quite relieved. And I was quite tired. Thankfully, I could sleep in the next day. My schedule actually allowed it.
2 Comments