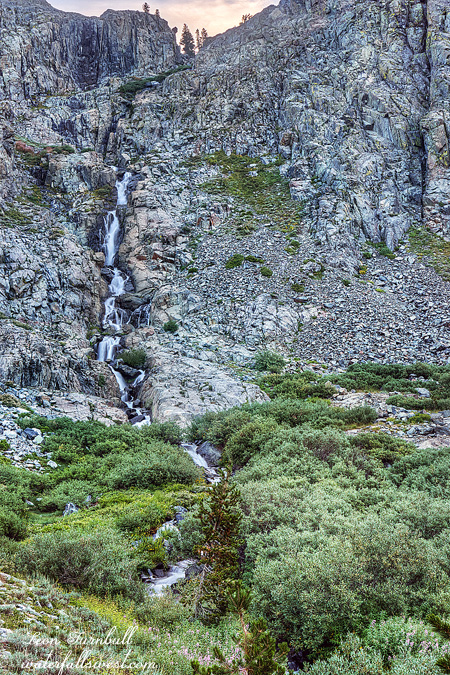 This is Ritter Lakes Falls, total height is about 350 ft. high. The bottom section shown here is about 200 ft., the top is out of view. I could not find a viewpoint where I could see the whole thing in one shot, though it may exist somewhere. I got down to the bottom of it here a bit past sunrise and there was still some nice color in the sky. Pretty sweet. I was surprised that this creek still had so much flow in it. On the way up, I had to wade across it at a sketchy spot above a small waterfall. It was a bit tricky. On the way back down, though, I found a much easier place where I could just jump across.
Our family is excited about watching the new season of Stranger Things. We are looking forward to the start of the showdown this evening, after our big church celebration today. It is the 500th anniversary of the Reformation of Martin Luther. We are Lutheran so that is a big deal for us.
Speaking of Stranger Things, my back is out again. I have had no issues with it for two years. It has felt really strong recently, on backpacking and hiking trips, then I bend down to pick something up and it goes out. Oh and we have to move heavy stuff this weekend because we are getting our floors re-done next week. Just perfect.
More Stranger Things … not so strange really, but we still have not had much rain yet. By this time last year, we had well over 10 inches of rain in the Foothills. This year, not so much. Only a couple inches thus far. I suppose last winter was the strange one. It is actually normal for it to NOT rain in October. Good news, though, there is finally a good storm in the forecast for next weekend. I am excited. Let's pray it is just the beginning of another good winter for us.
No Comments