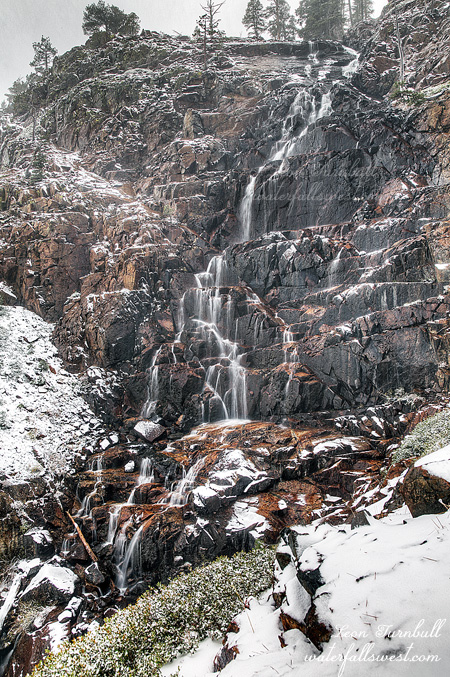 It was the first major snowstorm of the season this weekend. Of course, like a madman, I wanted to get out into it. But where to go? I wanted to find a snowy waterfall that was still flowing decently. That meant it would have to be above 7000 feet and somewhat easily accessible and somewhat flowing as well. I decided to try Susie Lake Falls in the Desolation Wilderness. I knew it would not be flowing great but I thought it should still be decent at least.
I have not been hiking or exercising at all for a couple weeks because I put my back out just bending down to pick something up. OK this is what it is like to feel old. I have not had any issues with it in over two years, and now it goes out? I had been doing exercises faithfully from my physio-therapist sister, but I stopped because it had been so much better. Well I won't be stopping those exercises any longer in the future. The back is better but still bothering me a bit, yet I still wanted to get out hiking this weekend. The worst part was driving back home from Lake Tahoe afterwards.
It was extremely windy when I got to the trailhead, a full on storm blowout. This was going to be a fun day, I thought. At this elevation, there was no snow on the ground. It was snowing a bit but it was not sticking until I got higher up in elevation. When I got up to Susie Lake there was a good 3 inches of snow on the ground, but I was actually hoping for a lot more. It seems that most of the precipitation fell further north (the northern foothills got about 4 inches); the Tahoe area did not receive too much at all.
At the lake, the wind was just completely crazy. Snow was blowing in my face from across the lake. I could see nothing. It was a struggle to walk to the end of the lake. Now we really were having fun. From the outlet, it's a steep descent down to the waterfall. In the summer I imagine it is a cakewalk, but now? With snow on the ground? With slick terrain? With ridiculous steep dropoffs? Good luck with that, madman. Well, I found a way around the dropoffs. Overall, it was not too bad or dangerous.
I made it down to the waterfall and it was actually pretty nice with the snow, though it would've been a lot nicer if there was more flow in the falls and more snow (so I guess it was not such a perfect storm – but then again, could I have gotten here at all if there was more snow?).
But it was fun, and despite the cold and blowing snow I was warm and quite dry enough in my rain gear. It was a good start to the season in the Desolation Wilderness. I just pray we have another good one this year.
No Comments