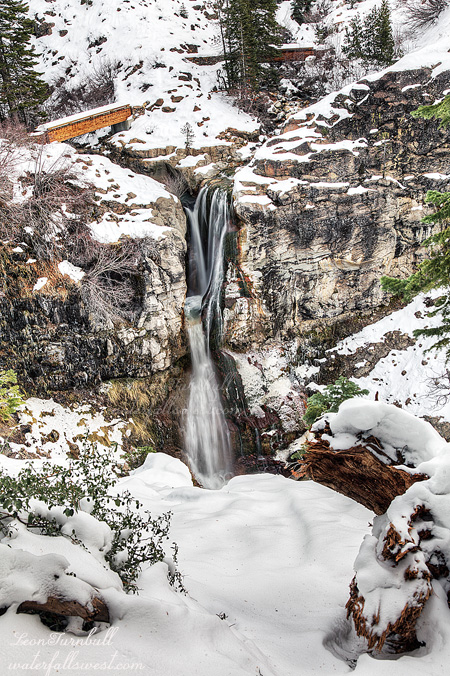 I've always wanted to snow shoe to Mill Creek Falls in Lassen Volcanic National Park in the winter. Well, this past weekend was my chance to do it.
My wife joined me on the hike. She just got brand new snow shoes (an early Christmas gift). I was totally jealous. Mine still work fine, but they are really beat up. I want new ones like she now has. Maybe I will steal them from her. Hummmmm ….
We arrived at the park before sunrise. I talked to some lady while my wife was using the restroom. They were camping in a tent at the park. It was 24 degrees. Yikes, that is a bit cold to tent camp for my bones. She said it was not cold. Ok, if you say so, ma'am. There was two feet of snow on the ground, but it was hard packed. You almost did not need snow shoes. Almost, but not quite. We would have been sinking in a lot without them. The latest storm dumped a lot of rain, but there was not much fresh snow, only a few inches. I wished there was more fresh snow. We need it. This winter is definitely not starting out like last year. Sadly. Although… actually we've had more rain this November than last year (but much less overall because October last year was huge).
It is a gorgeous hike. We saw quite a few animal tracks in the snow, including fresh bear tracks. I always like seeing those, but we did not see any bear or other animal. We arrived at the overlook to the waterfall. It was incredibly pretty in the snow, and flowing well. In the summer, I have no (or few) qualms about descending partially down the cliff to get a better view of the falls. I dared not do any such thing this time. It would have been extremely dangerous. Sliding off the cliff. That would not be much fun. The hike was very fun.
But it was tough. It is not an easy hike to Mill Creek Falls. There is a lot of up and down hiking and with snow shoes, it is twice as difficult. My wife struggled on the hike, especially on the way back from the falls, but she made it. Even I was tired by the end of the hike. This was not an easy way to break in your brand new snow shoes. Whew.
We were almost back to the trailhead when we saw a couple descending the trail. They were drunk, they each had a beer in their hand, they were wearing running shoes, and they were falling all over the place in the snow. They said they were going to the falls. Yeah, right. Good luck with that. I can easily imagine them getting stuck in the snow and not able to get up, and no one there to help them out until spring. Or else falling down the cliff at one of the very sketchy spots, at which you need to be extremely careful (ie. Not drunk). Frankly, I was just hoping they were not planning to leave their empty beer cans out on the trail. I try not to be stereotypical, but these are exactly the kind of people that do this kind of thing, and it ticks me off all the time when I see litter in the wilderness. Ok, well, enough of that. I hope you all had a great weekend.
No Comments