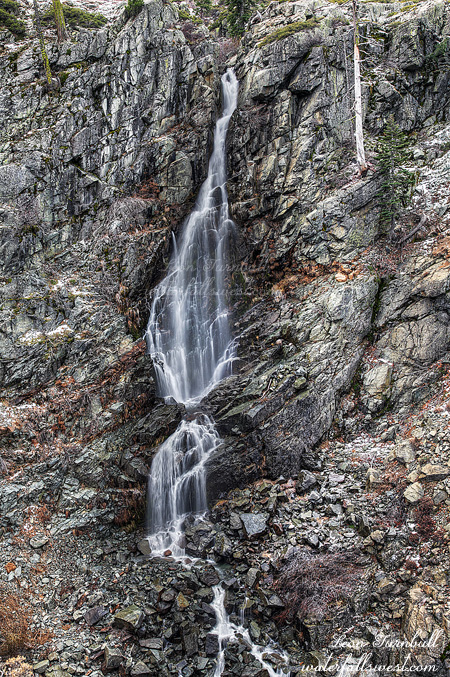 I have been wanting to get up to the High Lakes area in Lassen NF for a long time. There are quite a few waterfalls in this area. The problem is: it is a LONG DRIVE AWAY. Essentially, you drive to the other side of the Earth, and then a little more. Also, you need to go when it is a cloudy day for waterfall photography purposes, and also when the road is open (that basically means summer for the most part, and there are no cloudy days in summer).
Well it was going to be a cloudy day on Saturday, and it seemed like as good a day as any to try this long drive. I was really not sure about the road, however. You have to drive up to 6600 ft. elevation, there would surely be snow, but how much? There is no information about the road that you can look up beforehand, thus I did have a backup plan if I could not drive up there. Also I was not sure if the waterfalls would even be flowing up there. This whole hike was just a big shot in the dark. Nonetheless, I still wanted to try it.
The road to the High Lakes area is EXTREMELY ROUGH. There were a couple spots that were very sketchy driving my SUV past. I DID NOT LIKE IT. I was definitely worried about driving back down afterwards. My next car is surely going to have more clearance. Have I said that before? There was no snow until the last 100 or 200 feet. I almost bottomed out, indeed I could hear the snow scraping the bottom of the car, but it was just slight, and I was able to continue driving up to the trailhead. I made it up there. Now what?
My plan was to do a big huge loop to see all the waterfalls up in this area. It would be an all day affair. However, this plan was soon to change. I started out with a hike to Morris Lake. There was snow on the ground, and it was icy. The weather was brisk and refreshing. I saw quite a few bear tracks in the snow along the way, some of which seemed fairly fresh.
This is a popular OHV area, and even in the winter, I saw many tire tracks on the roads. I expected to see quite a few off roaders up here, but I saw no one the entire day. That is, until I was almost finished my hike. I did see a couple groups at the end, just up for the day. The road is crazy rough past where I parked, huge boulders to negotiate; I don't know how anyone could drive a Jeep on that road, but they do. I just wish they could also learn how to pack out their trash. Is it really so complicated? I picked up quite a bit of garbage on my hike. So annoying.
Anyway, from the first junction, it is supposedly 6 miles round trip to the waterfall.  I figured it would be quick and painless, but it was actually probably 8 miles and it was a much much tougher hike than anticipated, with about 1100 ft. elevation loss (which I would have to hike back up). Despite the elevation loss, the snow continued on the road and "trail" all the way down to the waterfalls. This was worrisome because there is a very steep descent off trail down to the falls. That made for a very sketchy hike on cliffy terrain. Could I make it down? In addition to this, the brush is crazy brush. It was not manzanita, I'm not sure what it was, but it was just as bad as manzanita. I was thick in it, and could see no light at the end of the tunnel. I almost turned back, but I persevered, and I finally got through it and then the rest of the way down was not too bad. I came to the first waterfall.
The first waterfall is a pretty darn nice one in its own right, and is 43 ft. high (that will be my next post). From here you can tell there is a huge waterfall just below you, but you cannot see it. You are standing on the brink of a monster cliff with no way to get down, and no way to see the falls. Well, I thought, if I could get over to the next ridge and down, I would be right in front of the waterfall and have a grand view of the thing. The trouble was twofold: First, it looked to be very cliffy on the next ridge, and there was snow on it, so it looked potentially impossible to get down it. Second, there was a huge ravine between the ridge and myself, so how would I possibly cross it? Well, I worked my way over and I saw a way to cross the ravine. With snow on it, it was a bit tricky, and I slipped once. Thankfully, I was holding onto some tree branches, otherwise I probably would have slid all the way to the bottom of the ravine. No joke. I got across onto the ridge. It actually did not look too steep or cliffy at all, and even with snow, it was not difficult to get down it. All the way to the viewpoint directly across from the waterfall. Glorious waterfall. 151 ft. high magnificent waterfall, and flowing fairly well this early in the winter too. The views down the canyon were absolutely breathtaking. What an amazing place. I have never seen any photos of these waterfalls before. Perhaps people have been down to them, but they have not been documented by anyone before waterfallswest.com.
It was already noon. I ate my lunch at the viewpoint. Now I had to climb back up the mountain. 1200 ft. back up. As you can imagine, it was a very tough climb out. I realized there was no possible way I could hike to the other waterfalls. Even if I was not so tired (and I was), it was now too late. I would have been hiking back in the dark for certain had I continued on as originally planned. As it was I just got back to the car less than an hour before sunset. I will have to come back here at some point, but I'm not sure when. Even though I only saw the two waterfalls, they were absolutely spectacular, and it was an incredible day in Lassen National Forest.
No Comments