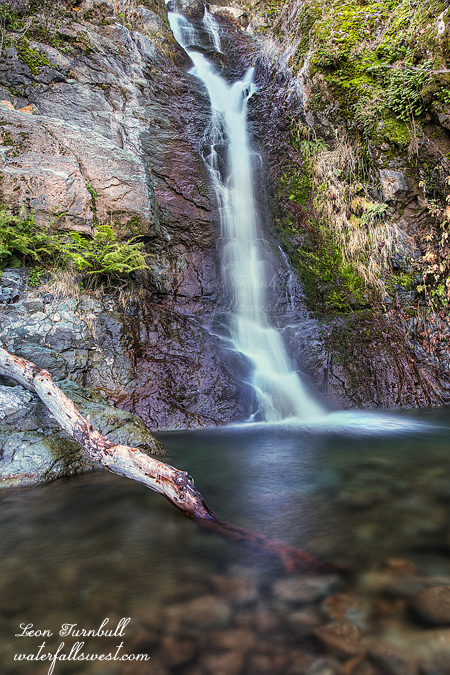 On New Year's Day for my first hike of 2018, I decided to head up to the Montgomery Creek area to try to find a new waterfall. The first 4.5 miles of the hike was easy and it took about 1.5 hours. The last 0.5 miles of the hike was ridiculous and it took about 1.5 hours. Then I had to hike it all in reverse. It took the same amount of time. I'm not joking.
The waterfall is a long way from nowhere. The last time I was up in this area I was taking my friend Brian Rueb to see a 5 foot waterfall. Well, it was not intentional, but that is how it worked out. I think that might have been the last time he hiked with me. This is one of the main reasons why I like to hike alone. I like to explore new areas to find new waterfalls that no one has been to before. Many times I strike out and do not find anything. I hate it when I bring someone out somewhere and end up not getting anywhere for whatever reason. They probably hate me for it. I'm not sure that is what Brian was thinking, but in my mind that is what I was thinking that he was thinking. Is that proper English? I did ask my son Jadon to come with me on this hike. However, it is probably a very good thing that he declined. He can't hate me because I am his father, but maybe he would have hated me for a short time. This hike was ridiculous!
The hike started out on a dirt road, and was mostly flat the entire 4.5 miles. It was very pleasant hiking, following the creek, which was sometimes out of sight, but sometimes in view from the road.
As I was hiking along, I saw some fresh bobcat tracks and scat in the road. As I was thinking about this and wondering if I would come across the creature, I saw a strange animal come bounding toward me on the road. When it saw me, it came to a dead stop. A few seconds later it ran off into the bushes and out of sight. He was far too quick to allow me to get the camera out, but it was definitely a ringtail! I have never seen one of these animals before; apparently they were quite common back in mining days, but now they are very rare (and also nocturnal, so I'm not sure what this little dude was thinking – a late New Year's Eve night partying, I guess). Anyhow, it was very cool.
I continued on, finally arriving at my creek crossing. From here, it is just a half mile up the creek to the waterfall. The brush along the creek was pure absurdity! I tried walking up the creekbed, walking alongside the creek, and walking up high above the creek. It was bad bad bad everywhere. Thankfully, there was not much poison oak and no ticks. (both of which was surprising – but I was not complaining). There was a bit of poison oak, however, and I did get a small rash but not too badly. After much effort, I finally got to a spot where I could see the waterfall ahead of me (with still a large amount of brush to battle through to get to it). I could see that it was a good one and a tall one. You might think that this would give me motivation and resolve to be able finish the hike, but even at this point I still considered giving up. That is how bad the brush was. I knew I still had a tough battle ahead of me. It was at this point I realized I had lost my tripod somewhere in the brush behind me. It was my cheaper one, but it was still a $70 tripod, and I had to go back to get it. It was not very close behind me either. I had to go all the way back to where I had climbed up a steep section from the creekbed. I finally found it. Then I had to turn around and go back through all that brush again!
The terrain was very steep as I got up close to the waterfall with a big dropoff to get back down to the creek. I found a way, though, which was right beside the cliff at the base of the falls. More brush. Then I had to climb down a big log (hoping it was securely in place), and I finally reached the base of the waterfall. It certainly is a fabulous waterfall, dropping 80 ft. high. It would be amazing at higher flows, but will I ever return here? Not likely.
On the return trip, I stayed higher above the creek. Not much better. I finally got back to the road. It was late now, well past lunchtime, and I was about 4 hours behind my anticipated end to the hike. Ah well, it was a good way to start 2018, and it was worth the effort … I think.
2 Comments