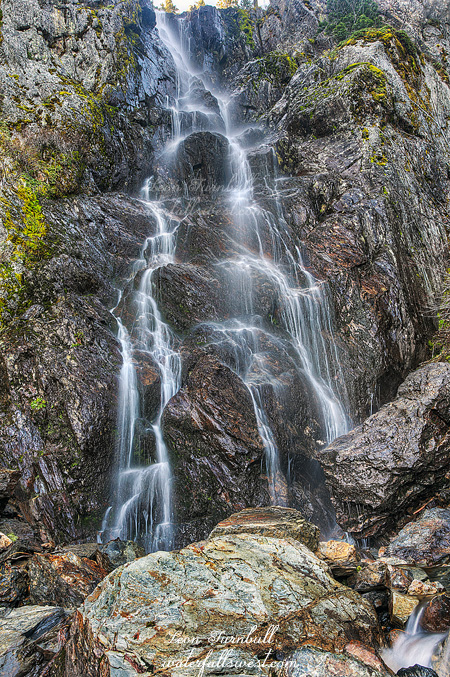 I don't know. This last hike I did on Saturday was only a half day, 8 mile hike, but it felt more like a full day, 16 mile hike. I was just as tired after this hike as I was after the Trinity Alps hike on Easter weekend, and it took me just as long to recover (ie. two days). Granted it was a tough 8 mile hike, with a lot of scrambling up and down mountain sides, so I'm sure this is the reason I was so tired. But I don't know, it seems to me I shouldn't have been so tired after it. Maybe my 45 year old body is finally catching up to me (or I guess I should say I am catching up to it). Maybe it won't be much longer that I will be able to do tough hikes like this. The horrors, I am dreading that day. There are so many great places to hike around here, many I have not been to yet, and many of them have very difficult access. Especially the North Fork American River Canyon. It is such a beautiful and rugged and remote place. My favorite canyon. And the access is so darn difficult. That is a good thing, else it would not be so beautiful and rugged. I must keep going here though. I cannot stop going here. Ever.
Oh I guess I might mention I was also carrying a heavy pack all morning. I brought my big heavy lens along, thinking that I would be able to get a very good view across the canyon of Big Granite Creek Falls from the Iowa Hill Ditch. Unfortunately, this is not possible. You can only glimpse the uppermost part of that huge waterfall, and it is not possible to see the entire thing. I was disappointed about this, from what I had heard there was going to be a great view from the Ditch. You can, however, get a pretty good view of Big Valley Falls from the Ditch, but I did not take a picture because (1) that waterfall was not flowing super great, and (2) the sun was harshly shining on it. Perhaps another year and day will be better. So all in all, I took my big lens and did not even use it. I'm sure my back did not appreciate that too much. Nor my legs. Nor my entire 45 year old body.
Anyway, I am calling this waterfall Iowa Hill Ditch Falls. It is 93 ft. high. Good name, huh. I can't think of a better name for it. It is an unnamed stream, in a remote spot and not near anything else of significance, but it needs a name because it is such a beautiful and large waterfall. It is located at the very end of the Iowa Hill Ditch, so the name does make sense. As much sense as anything else.
As I mentioned before, it is super hard to get up close to. The terrain is incredibly steep, and required much difficult scrambling to get up close to it. I did it, but it was not worth all the effort. Nonetheless, I do very much like this shot even though it is an in your face, straight on shot.
2 Comments