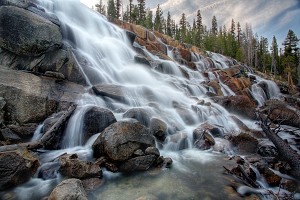 Image 1 of 5;
Click arrow to scroll or click image to enlarge

Location: Mammoth Lakes, Devils Postpile National Monument, Inyo National Forest, Madera County
Stream: Minaret Creek
Alternate Names: Height: ~250 ft.
Access:



Distance: 2.6 miles (RT)
Elevation: 7600 ft. (+100 ft.)
Season: Jun-Sep
Form:


Lat/Long:37.64058, -119.09140
Directions:From Mammoth Lakes, drive 13 miles on Hwy 203 to Devils Postpile Natl. Monument. Turn into the Devils Postpile (ranger station) area. There is a fee to enter the Monument. There is also a mandatory shuttle bus unless you are camping or are handicapped.